LA's 15 Best New Restaurants, According To Fashionable Foodies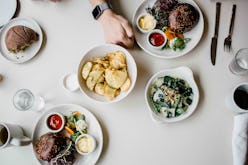 Los Angeles isn't only home to some of the world's most sought-after celebrities, style stars and fashion brands—it's also a breeding ground for innovative culinary talent. These days, tourists and locals alike are just as obsessed with discovering new menus as they are with finding new hiking trails, which is why major chefs are flocking here to present their most ambitious bites.
Since many of the food-loving locals devouring these dishes happen to be tastemakers in their own right, we've called on 15 of them to nominate their favorite new restaurants. Some are super new (Mardi and Sawyer), some have opened within the last two years (Gjusta and Mercado), but all are insanely delicious. Read on to discover where LA's top designers, bloggers and beautifiers are eating right now, and what they're ordering.
Alma
8300 Sunset Blvd, West Hollywood, CA 90069
"Alma recently took over the kitchen at The Standard in Hollywood. The interior of The Standard has a nostalgic '70s vibe, and the soundtrack is old school hip-hop and trap. And now, thanks to Alma, the food and drinks are killer, too. I can easily inhale 100 beignets, and I love their frozen foie gras mixed with granola." — Olivia Lopez, Lust For Life blogger
Au Fudge
9010 Melrose Ave, West Hollywood, CA 90069
"The food is amazing at Au Fudge, and I absolutely love the atmosphere there, too! It's the perfect place to take your kids; they have a creative space where they can play while you're catching up with friends. The laid-back, California-chic vibe makes you feel like you're at your home away from home. The flatbread du jour and the truffle parmesan fries are to die for, and my kids love the grilled cheese with tomato soup. Of course, you have to get the signature fudge flight for dessert. If I'm out with friends and want to unwind, I'll get the Jessica Rabbit's Rabbit: It's one of their specialty cocktails made with tequila, mezcal, lime, agave, cucumber, jalapeño and black volcanic salt." — Jennifer Meyer, jeweler
Baroo
5706 Santa Monica Blvd Los Angeles, CA 90038
"The food at Baroo is wildly creative but actually still so delicious! At this free-style experimental kitchen, you're taken on a journey inside chef Kwang Uh's mind. The dishes here are Korean-inspired and use mostly vegetables and fermentation to get flavor like no other. You feel like you're having something really special when you come here, which I love. I always order the Kimchi Fried Rice—it comes with pineapple-fermented kimchi, a 63-degree sous-vide egg, purple potato chips for crunch and smoky roasted seaweed." — Tara Sowlaty, How You Glow co-founder
Burgerlords
943 N Broadway, Los Angeles, CA 90012
"Burgerlords is my new favorite LA restaurant. Why? Because they have delicious burgers that I can actually eat. (New vegetarian here, six months now!) It's something indulgent that I can eat and not feel so guilty about. I order the handmade fresh vegan burger with vegan cheese—it's literally made every morning and they sell out before they close. Their fries are also legit, and they serve Mexican Coke. Can't have it any other way." — Ben "Baller" Yang, celebrity jeweler and Superism founder
Gjusta
320 Sunset Ave, Venice, CA 90291
"Gjusta is delicious! I live on the westside, so it's the perfect neighborhood spot. It's great for a quick bite and tea, or for a more filling meal. The Grain Bowl is my favorite dish to order for breakfast." — Jenni Kayne, designer
Le Relais De l'Entrecôte
8755 Melrose Ave, West Hollywood, CA 90069
"I love l'Entrecôte on Melrose. There is no menu, it's only the best steak and fries. They have an amazing sorbet that they put vodka in!" — Scotty Cunha, celebrity hairstylist
Mardi
8465 Holloway Dr, West Hollywood, CA 90069
"Mardi at the Palihouse Hotel features delicious, large share-plates that are perfect for an intimate dinner party. Their beautiful garden patio gives seriously chic European vibes! I love their Bub and Grandma's bread with shrimp butter and sea urchin; it's pure heaven on toast." — Stephanie Liu, Honey & Silk blogger
Mercado
7910 W. Third Street, Los Angeles, California 90048
"Mercado has the Texas-style queso that I always crave, plus a really cool Cali atmosphere with open air windows. Besides the queso, I always order the steak skewers and spicy margarita." — Jacey Duprie, Damsel in Dior blogger
Ostrich Farm
1525 W. Sunset Blvd, Los Angeles, CA 90026
"I love Ostrich Farm because not only is the food really tasty, but it's impeccably designed. It's owned by a husband and wife, and they're two amazing people doing something really radical for the community in Echo Park. When you walk in, everyone greets you by name, and the service is great. It's all just a very pleasant experience. I love getting the spicy chickpea bowl with poached eggs for brunch. It's the best thing in the world!" — Lee Tilghman, food stylist and Lee From America founder
Petit Trois
718 N Highland Ave, Los Angeles, CA 90038
"I'm beyond obsessed with Petit Trois. It's this tiny, tucked away French restaurant in an unexpected corner of Hancock Park. Somehow, the fact that it's situated near a gas station and donut shop only enhances its allure. The cocktails take time, but are worth every sip. The small, open kitchen allows you to watch your food being prepared (and witness the generous amounts of butter going into it). The fare is rich, but simply delicious. The burger, otherwise known as The Big Mec, is sinfully tasty, and the omelette with boursin pepper cheese and chives is next level!" — Catt Sadler, E! News host
Sawyer
3709 W Sunset Boulevard, Los Angeles, CA 90026
"Sawyer in Silver Lake is so cute. There's a nice patio, the food is bomb, and there are always hot dudes. I love ordering a million oysters and fried chicken." — Lara Pia Arrobio, LPA creative director
The Butcher's Daughter
1205 Abbot Kinney Blvd, Venice, CA 90291
"The Butcher's Daughter is chill, beautiful and serves healthy food. I like following up the visit with a sunshine-filled walk down Abbot Kinney. I love the frozen acai bowl for an early breakfast; the surfer's breakfast and a matcha latte for brunch; and the kale caesar, avocado toast or macro bowl for lunch. They also have bomb cold-pressed juices and kombucha. I go there a lot!" — Geri Hirsch, LEAF.tv co-founder and Because I'm Addicted blogger
Viviane
9400 W Olympic Blvd, Beverly Hills, CA 90212
"Viviane is located at the Avalon Hotel in Beverly Hills, and I absolutely love the vibe! They have one of the most beautifully designed bars in LA, and gorgeous cocktails to match—my fave is the Paloma. Kelly Wearstler's decor is perfection; the restaurant has indoor and outdoor seating, overlooking the colorful cabanas and pool, which is awesome for both day and night time. The food here is incredible: Chef Michael Hung makes flavorful, sophisticated, yet un-fussy food that I crave regularly. As for what to order, the burrata cheese and roasted mushroom tartine is a little slice of heaven, and you definitely don't want to miss the tempura fried squash blossoms!" — Jessie Groveman, How You Glow co-founder
Wexler's Deli
616 Santa Monica Blvd, Santa Monica, CA 90401
"I'm a sucker for a traditional corned beef sandwich, and the one at Wexler's Deli is the best. They smoke their own meats, and everything is homemade. I've been waiting for a deli to come to the westside for ages, and finally, I have a regular spot! My new favorite thing is their matzoh ball soup and fresh squeezed orange juice." — Whitney Port, Whitney Eve designer
Winsome
1115 Sunset Blvd, Los Angeles, CA 90012
"Winsome in Echo Park has a high-end diner feel to it. The design of the space is beautiful—it's not overdone at all, so it has a great neighborhood feel. I even love the plates that they serve the food on; they're all unique ceramic pieces. And the food is just as outstanding as the decor! My favorite thing to order is the speck and comte grilled cheese, which is such a great update to a classic." — Lucy Akin, Shop Super Street founder
Catch
8715 Melrose Ave, West Hollywood, CA 90069
"Catch is a favorite of mine in New York, Playa Del Carmen, and now Los Angeles. I love this East Coast spot for good food and better drinks. The new LA location is the perfect addition to my weekly dinner plans!" — Marianna Hewitt, Life With Me blogger