Fashion-Girl Approved Beers To Try This Weekend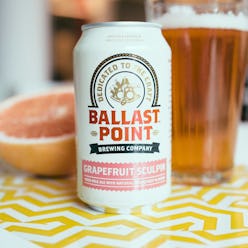 When throwing a party, you wouldn't settle for any old outfit—you aim to wow—and the same should go for your refreshments. So don't just pick up another pack of generic, been-there-done-that kind of beer. Instead, give your guests a Super Bowl party to remember by going with some of the tastiest, most sought after and, even more importantly, chicest craft beers on the market. Because as every fashion girl knows, the best finds are not mass produced.
Victory At Sea, Ballast Point Brewing Company
It's always a good idea to have at least one dark beer for your guests, and we suggest going with Ballast Point's delicious Victory at Sea porter with coffee and vanilla. Not only does it have an awesome skeleton pirate on the front of the bottle for some added edge, it's also a seasonal beer that just came back on the market.
Athena, Creature Comforts Brewing Co.
A beer named after the goddess of war? That's definitely something we can get behind, especially when rooting for our home team. Citrusy and light, this Berliner Weiss-style beer is just the blonde brew to stock up on for cheers-ing to your team's touchdowns.
Blonde Ale (Kölsch), St. Archer
St. Archer uses German hops and Kölsch yeast to re-create an authentic blonde ale with clean, crisp, malt characteristics similar to a pilsner. Ideal for the host who's known for her chic, European style.
Fortunate Islands, Modern Times Brewery
Modern Times' hoppy, tropical wheat beer is just the beer for the fashion girl who is all about keeping it super simple and modern. With a minimalist label and subtle design, it's the perfect beer to sip while hoping fortune favors your team.
Street Green, Other Half Brewing
This Brooklyn-based brewing company has garnered an intense following from East Coast beer fanatics, and their Street Green IPA is a pretty great example of why. Perfect for the fashion girl who loves a good, bitter IPA just as much as she does street style.
Point The Way, Golden Road Brewery
One of Los Angeles' coolest craft breweries, Golden Road, is all about making beer that represents the city. Pick up a case of their classic, Point the Way, and give your viewing party a delicious touch of LA style.