Easy Cocktails That'll Make Your Holiday Party Look Fancy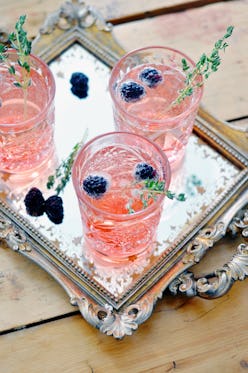 Planning a holiday party (or any get-together for that matter) is stressful enough without having to worry about how you fit a full-service bar into your living room—and by full-service bar, we mean a cocktail menu that looks fancy without costing a fortune. Here, 4 drink recipes to impress your guests (that won't empty out your checking account).
Fancy Schmancy
La Medicina
1/2 oz. Mezcal 1 oz. Tequila 2 pinches of freshly grated ginger 1 chunk fresh ginger 1 tsp. honey 1 oz. lemon
Muddle together the ginger, honey and lemon at the bottom of the glass. Add the ice, Mezcal and Tequila. Stir well for 15 seconds. Pour over a fresh glass of ice.
Red All About It
2 dashes orange bitters 3 strawberries 1/2 lime 1/2 pamplemousse 1 1/12 oz. tequila 2 tarragon leaves 2 basil leaves
Cut strawberries in half and muddle with tarragon and basil leaves. Add ice lime, orange bitters, pamplemousse and tequila. Shake and pour.
Movers And Shakers
1 1/2 oz. Grey Goose Vodka 1/2 oz. passion fruit juice infused with vanilla bean 1/2 oz. Aperol spritz 3/4 oz. lemon
Add all ingredients to a shaker, fill completely with ice and shake vigorously for ten seconds.
Japanese Cocktail
2 oz. rye 1/2 oz. ginger syrup 1/2 oz. honey 1/2 oz. lemon .25 oz. Yuzu
Combine all ingredients and shake with ice. Strain and pour over fresh glass of ice. Garnish with candied ginger.