The Best Ways To Use Trader Joe's Cauliflower Pizza Crust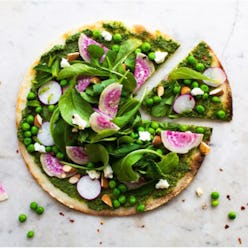 Bless the gluten-free gods for whoever dreamed up cauliflower crust pizza. (Because life without pizza is no life at all.)
There's only one problem: It isn't exactly easy to make. It's too wet and it won't cook properly, too dry and it won't bind. Which is why the internet proceeded to freak out when Trader Joe's started selling a pre-made, just-pop-it-in-the-oven—or microwave!—caulicrust.
Ever since it came out last month, stores all over the country have been repeatedly selling out. It's proving harder to get than a pair of those Ultracor x Bandier star leggings, begging the question: What, exactly, should you put on a crust this elusive? If you're able to get your hands on it, surely it deserves a bit more than your standard mozzarella and basil.
Well + Good tasked three healthy food bloggers to take the trending ingredient and use it to create an epically delicious healthy dinner. (Full disclosure: It took multiple trips, to multiple stores, for some of them to track the caulicrust down—if you can't get your hands on one, this brand is a bit easier to find and equally delish.)
Here, they share the unexpected, nutritious toppings they used—prepare to start stalking your local TJ's like never before.
Candice Kumai's Sweet Potato Avocado Pizza
Thought sweet potatoes and avocados were just for toast? Think again. Professionally trained chef and best-selling author Candice Kumai completely reinvents pizza night with this essentially plant-based take (save for the sprinkling of Parmesan shavings on top). The fresh arugula adds a refreshing bite that makes it the perfect summer dinner.
Ingredients 1 Trader Joe's Cauliflower Pizza Crust 2 cups unpeeled sweet potatoes (roughly 2 medium sweet potatoes), cut into 2-inch cubes 2 Tbsp unrefined coconut oil 1⁄2 tsp sea salt 2 cups wild baby arugula 1 ripe avocado, thinly sliced 2 tsp balsamic vinegar 2 Tbsp grated parmesan, pecorino or vegan cheese
1. Preheat the oven to 450°F. Pre-bake the cauliflower pizza crust for approximately 10 minutes. Carefully flip and bake for another 10 minutes. Remove crust from the oven.
2. Reduce the oven temperature to 400°F. Place the sweet potatoes on one baking sheet, coat with two tablespoons of coconut oil and sprinkle with sea salt. Place the baking sheet into the oven and roast for approximately 25 minutes. Remove and let cool slightly.
3. Blend the roasted sweet potatoes in a food processor until creamy. Using a large spoon, top the pizza with the sweet potato purée. Place into the oven to warm at 400°F. Carefully remove from oven.
4. Top the pizza with arugula, cheese and avocado slices. Drizzle with balsamic vinegar and sea salt to finish.
For the rest of the recipes, visit Well + Good.