How And Where To Do Halloween Like An Adult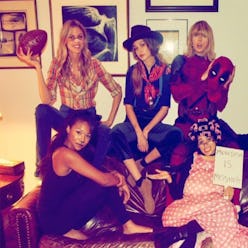 Real talk: Halloween will always be one of our favorite holidays. We get majorly nostalgic remembering school costume contests and walking around from door to door asking for candy. And luckily, we don't have to put the holiday behind us entirely as adults. Skip the trick-or-treating and opt for a spooky destination instead. To get into the spirit, we went on the hunt (haunt?) for the best cities guaranteed to make your Halloween a blast.
Homepage Image: @taylorswift
Salem, Massachusetts
Why visit: Famous for its 1692 witch trials, during which several locals were executed for allegedly practicing witchcraft, Salem boasts a bountiful supply of spook. It's the ideal destination for a history junkie and the ultimate thrill enthusiast.
What to do: Spend your day in an old gothic church literally worthy of any horror movie, delving deep into the witch hysteria of 1692. The Salem Witch Museum offers insight into the witch trials in an educational, thought-provoking and spooky way. You'll also want to try a cruise around the waters of Salem to take in more history of the area while sipping on cocktails and eating goodies. In a history-dense city, we also suggest roaming around historic sites like the House of the Seven Gables, Peabody Essex Museum and the Salem Witchcraft Memorial. Whatever you decide, we guarantee it'll be an extra-special Halloween experience.
San Francisco
Why visit: SF is said to be one of the most haunted cities in the United States. Not only are its Victorian closets full of skeletons, but some of its most famous houses are said to be frequented by ghosts. Spoooky!
What to do: Deplete your horror tolerance on a haunted island that was once the home of an infamous maximum-security prison. Alcatraz Island held prisoners like Al Capone and George "Machine Gun" Kelly among others whose spirits might still be roaming the perimeter. The Alcatraz Night tour offers a more intimate experience and if that isn't frightening enough for you, the San Francisco Dungeon below Fisherman's Wharf even recreates the spooky Alcatraz jail cells. Guest can stay overnight for $666 on October 30 and 31. Those brave enough to survive the night receive a swag bag of dungeon goodies including one Merlin Annual pass per guest, which provides access to more than 30 US attractions. You're in for a treat on this one.
San Jose, California
Why visit: If you're someone who doesn't like to brave massive crowds, we've got the perfect place for you. San Jose isn't an overly populated city and still offers lots of fun attractions for Halloween as an adult. Beware of the creepy side roads and haunted highways though.
What to do: Listed on the National Register of Historic Places, the notorious Winchester House is a mysterious and haunted dwelling all year long, but Halloween makes it even more compelling to see how Sarah Winchester's compulsion turned non-believers into screamers.
Los Angeles
Why to visit: It's LA! The possibilities are endless because we have it all, from block parties to hayrides. And if you're hankering for a little shiver, there are deeply unsettling attractions for everyone. Honestly, what's Halloween without a few good scares?
What to do: Buy a ticket for the historical ship Queen Mary's Dark Harbor located in Long Beach, because it's good. Whether you're in with a couple of friends or riding solo, you'll be braving horrifying mazes in search of a hidden cool bar. Halloween Horror Nights don't fall short either. Be prepared to be chased nearly to death though, because the more you scream, the more you run. If you're on the naughty side, you can always party in West Hollywood for the Halloween Carnival—food trucks, bars and multiple stages blasting live music and DJ tracks. It's best to leave the kids and pets at home for this one.
Sleepy Hollow, New York
Why visit: 'Tis the season to be frightened, and this little village located on the east bank of the Hudson River has the right amount of spook. This is also the perfect destination for literary junkies.
What to do: Step on the grounds of Washington Irving's final resting place. In October, the Sleepy Hollow Cemetery offers tours and hosts literary events featuring the works of Edgar Allan Poe and ghost stories by Washington Irving. If you're a thrillist, visit Horseman's Hollow, a 300-year-old manor that transforms into a landscape ruled by vampires, witches, undead soldiers, ghouls, ghosts and the headless horseman himself. Very high fear factor!
New Orleans, Louisiana
Why visit: Halloween in New Orleans is a historical experience. The city's collection of voodoo shops and daily ghost tours does not only deem it the ideal destination for Halloween, but New Orleanians ensure your experience is wild and crazy. Don't believe us? Find yourself surrounded by party monsters and an abundance of outlandish costumes for the ultimate fun.
What to do: Begin your day by walking through Frenchmen Street in the Marigny and visiting restaurants and live music halls. End your night by attending the New Orleans Haunted Pub Crawl. This entails touring different haunted pubs and bars while hearing engaging ghost stories and sipping on cocktails. Plus, you'll want to be buzzed for the official Halloween Parade—imagine traveling through the French Quarter on a full-size float. It can't get any better than this.