Creamy Whipped Feta Dip with Mint Parsley Pesto and Cucumbers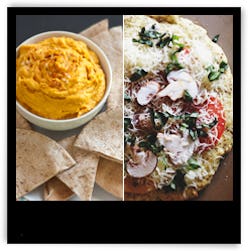 Ingredients:
1/2 pound (8 oz) Sheep's Milk Greek feta
The juice of one fresh lemon, divided
2 Tablespoons thick Greek yogurt or drained plain yogurt
1 small garlic clove
1/4 cup (one handful) fresh mint
1/2 cup (2 handfuls) fresh flat leaf parsley, divided (1/2 finely chopped for cucumber salad)
1/4 – 1/2 cup extra virgin olive oil or as needed, divided
Fine sea salt
Finely ground black pepper, or more or less to taste
2 or 3 small Persian cucumbers or 1/2 a hothouse cucumber, finely chopped
Directions:
1. Rinse and gently pat dry the feta and place it in the bowl of a food processor. Pulse together with half of the lemon juice and the Greek yogurt until smooth and creamy. Remove and refrigerate for at least 1 hour.
2. Clean out your bowl and place the garlic, mint, half of the un-chopped parsley and a pinch of salt and pepper inside. Pulse until finely chopped. Turn food processor to "on" and stream in olive oil until a pesto-like consistency is achieved. Remove and set aside.
3. Combine the remaining lemon juice, olive oil and the ¼ cup of finely chopped parsley with a pinch of salt and pepper to the chopped cucumbers. Mix to combine and place in serving bowl.
4. Just before serving, place the feta dip in a shallow serving bowl and top with the mint, parsley pesto and an extra drizzle of olive oil if desired.
5. Serve with the cucumber salad on the side and pita chips or crackers of your choice. (I served mine with grain-free almond flour crackers)