Baked Buffalo Wings with Blue Cheese Dip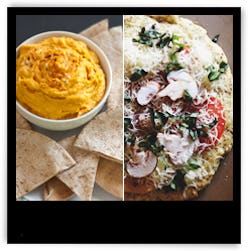 Ingredients:
WINGS:
6 lbs chicken wings, tips discarded, separated at joint into 2 pieces
Salt and pepper
6 tbsp (1/3 cup) butter
1/2 cup hot sauce, such as Franks RedHot
1/2 tsp cayenne pepper (optional)
DIP:
1 cup sour cream
125 g (4.5 oz) blue cheese, crumbled
1/4 cup mayonnaise
2 tbsp lemon juice
2 tbsp minced green onion (from about 2 thin stalks)
1/2 tsp salt
Ingredients:
1. Preheat oven to 400 degrees. Spread wings out over two large baking sheets, avoiding overlap (or else the wings will steam, rather than crisp up!) Season well with salt and pepper; bake about 40 minutes, until golden brown and cooked through.
2. Melt butter over medium heat. Add hot sauce and cayenne, if desired (taste first, then add cayenne to your heat preference).
3. Transfer wings to a large bowl and toss with some sauce. Serve immediately.
4. For dip, in a medium bowl, beat together all ingredients. Taste, and add more salt if needed.