11 Delicious Fall Cocktails For Halloween And Beyond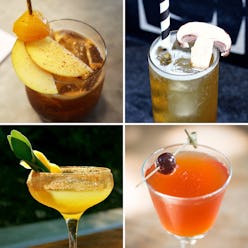 Los Angeles isn't exactly the best place to feel the fall spirit but sometimes all it takes is a sip laced with fall flavors to get you into the swing of the season—palm trees and all. So if you're looking for something a little bit stronger than a pumpkin spice latte, these seasonal cocktails from L.A.'s chicest watering holes are just the things you need. Cheers!
The Eveleigh: Rye Maple Fizz
Sunset's chic farm to table spot brings a bit of autumn to their buzzing neighborhood patio with a maple offering of epic proportions. A delicious combo of Wild Turkey 101 rye, maple syrup and a touch of Angostura, the Rye Maple Fizz is guaranteed to warm you to your bones, autumn chill or not.
Birch: Apples & Pears
Tap into the fall harvest with Birch's celebration of some of fall's most deliciously sweet offerings,—apples and pears—with a drink of the same name. Made with Apple lambic, pear cider, burnt sugar, bourbon and nutmeg this inventive cocktail is as delicious as it is stunning.
Butchers & Barbers: Vacation Forever
With roasted pineapple, all-spice infused Coco Lopez and Jameson caskmates, this cocktail from Butcher's & Barbers is like a fall take on the piña colada—and we definitely approve.
Redbird: Cardinal Punch
If you're wanting something to ease a long day, this boozy seasonal punch from downtown hot-spot Redbird has just about everything we could possibly need for a quick pick me up: bourbon, brandy, brown sugar, roasted orange, clove, and a of course, a touch of champagne.
Gracias Madre: The Fungus Amongus
If you think a mushroom cocktail sounds like the last thing you'd want, think again. Sherry infused with black truffle, mulled vermouth, orange oil and black truffle bitters make up the latest crazy cocktail concoction from Gracias Madre's esteemed barman, Jason Eisner and surprisingly enough—it's the perfect sip for an earthy, mulled, not to mention delicious, taste of fall. Trust us on this one.
Firefly: Pumpkin Spice Cable Car
It's safe to say that if you're a fan of the pumpkin spice latte then you've just found your signature fall drink. Studio City's adult interpretation of the fall staple uses rum, pumpkin syrup, and a cinnamon sugar rim to keep you in the pumpkin spice even while imbibing.
Red O: Vanilla Sky
There's nothing like a warm coffee and a cold nose to make you feel like its fall out. Especially when that coffee's a Mexican coffee topped with freshly grated cinnamon from Santa Monica's beach-front Mexican spot, Red O.
Terrine: Blood & Sand
Earthy scotch meets homemade cherry brandy in this warming rendition of the classic post-prohibition cocktail by Terrine head bartender Ryan Wainwright.
Sambar: Punjabi Warrior
Culver city's Indian spot embraces the spirit of the season with a tasty cider-esque sipper of Laird's applejack, vermouth, and just the right touch of Indian spices to keep things deliciously interesting.
Fig & Olive: Pumpkin Spice Martini
As seasonally straightforward as it is dangerously easy to sip, this beauty of a cocktail from Fig & Olive's fall cocktail menu combines all of our favorite fall flavors into one. All hail the delicious combo of vanilla infused vodka, apple brandy, pumpkin spice marmalade, and ginger syrup.
E.P. & L.P.: Express Yourself
West hollywood's ultra-chic rooftop bar knows how to do fall right with a cocktail as tasty as it is 'grammable. A mix of house spiced espresso, Genever, cognac and bitters, express yourself is just the sip to get you feeling all sorts of fall.