Daylight Savings: 10 Things To Do With Your Extra Hour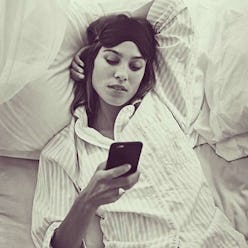 While we hate the fact that Daylight Savings is about to make the days feel a lot shorter, we love the idea of gaining an extra hour. To help you make the most of your time, we've rounded up the 10 best things to make your additional 60 minutes more productive. Whether you're in the mood for some at-home spa activities or are interested in making your house feel more like a home, we have just what you need to spend your time as wisely as possible. And when in doubt, you can always just do nothing.
Organize Your Closet
You know you need it. Here, discover our step-by-step guide to organization utopia. You're welcome.
Make A Trendy Smoothie
As if smoothies weren't trendy enough already, these 5 recipes are not only delicious, they're Pantone matched.
Give Yourself An At-Home Spa Treatment
Microdermabrasion treatments, enzyme peels and body scrubs are expensive at a spa. Save some money by DIYing your favorite spa indulgences in the comfort of your own home.
Listen To A Podcast
We combed through this year's top podcasts—and surveyed our most dialed-in friends—so you can make your picks based on what you already love to read and watch.
Master The Art Of Cocktail Making
These seasonal cocktails from L.A.'s chicest watering holes are just the things you need. Collect inspiration and the motivation to perfect your own signature recipe just in time for holiday parties. Cheers!
Google Yourself
Have you ever Googled your name? You may be presented with a slew of embarrassing or unflattering photos of yourself. We have 7 tips for rebuilding your online rep ASAP.
Take The Best Nap In History
There are many ways to optimize a bedroom for sleep: By making just a few small tweaks, you can transform your insomnia zone into a haven for sweet dreams.
Plan A Vacation
With some of the most popular and exotic destinations in mind, we curated four perfect outfits just waiting for a jet-set adventure. Now all that's left is to pick one.
Update Your Home On The Cheap
These 6 guidelines make decorating as easy, stylish and economic as possible—in other words, you can live with champagne taste on a beer budget.
Give Yourself A Fashionable Manicure
These 5 manicures are inspired by the hottest runway looks for fall 2015. Here, get the steps for creating them on yourself.