The Country Of Georgia Is The 'Cradle Of Wine' For Good Reason
Maksim Ozerov/Moment/Getty Images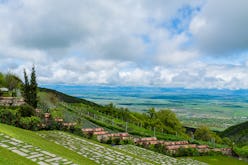 We may receive a portion of sales if you purchase a product through a link in this article.
A star has emerged, or shall we say re-emerged in the wine world and it shows no signs of dimming. The country of Georgia has a rich history in viticulture and has been producing exquisite wine in the heart of the Caucasus region for over 8,000 years. It was even given the moniker, "cradle of wine." Recently there's been a surge in popularity for these wines, particularly those made from the region's white grapes. According to the National Wine Agency, in 2022 Georgian wine exports to the U.S. increased by 28% and 15% overall in key global markets.
Considered to be a transcontinental country, Georgia is located on the coast of the Black Sea at the intersection of Eastern Europe and Western Asia. Being home to over 500 indigenous grape varieties it's easy to see how Georgia began its art of winemaking, but things haven't been so easy over the last few decades. Mikheil Khmelidze, Teliani Valley's chief winemaker, explains why Georgia's wine renaissance and the diversity of its wines being consumed worldwide is particularly meaningful. "There were times in Georgian winemaking history when a lot of these varieties were forgotten and mostly two white grape varieties were used for everyday winemaking, Rkatsiteli and Kakhuri Mtsvane, grown in the Eastern part of Georgia, [in the] Kakheti Region," he shares.
Khmelidze says he is grateful for a movement by winemakers and vine growers 20 to 25 years ago to restore some of Georgia's "indigenous white grape varieties." These recovered grape varieties include Kisi, and Khikhvi, from the Kakheti region in Eastern Georgia, and Tsitska, Krakhuna, and Tsolikouri, from the Western regions of Georgia. Khmelidze explains the differences in the anatomy and flavor of the grapes between the regions. "Eastern Georgian white grapes are distinguished with thick skin, more tannic, medium level acidity and full body, while in Western regions white grapes are more thin-skinned, higher acidity and less tannic, producing medium to low body wines."
The region the grapes are grown in isn't the only diversifying factor among the wines produced by these Georgian white grapes. The method of production plays an integral part as well and the two most popular produce vastly different styles of wine: qvevri and classic European style. The qvevri method is the ancient Georgian winemaking approach that uses large, round, egg-shaped clay vessels (qvevri) and produces traditional Georgian amber wine.
Patrick Honnef, the CEO and technical director at Chateau Mukhrani, explains that qvevri or amber wines are marked by the long skin contact, meaning the grape skins are not removed. While these amber wines will vary based on the exact location and winemaker decisions, he describes their "typical" flavor profile. "Aromatic components are sweet aromas of ripe dry fruit, honey, dry herbs, and more or less intense tannic structure on the palate, that give the wine long aging potential," he says of the traditional drink steeped in cultural heritage.
"There are certain varieties that are better qualified for traditional skin contact winemaking," Honnef notes. "Those with a certain tannic potential and eventually a certain rusticity. Rkatsiteli and Mtsvane are great here."
The second popular style of winemaking in Georgia using white grapes is the aforementioned classic European. "They are produced like other wines around the world," Honnef says. "Wines, made out of endemic Georgian or international varieties, are expressing intense varietal and/or terroir-driven structures and aromatic profiles." These are similar to more familiar wines like Pinot Grigio or Sancerre than a traditional Georgian amber wine. Honnef describes them as "Fruitful, floral, herbal, mineral, and crispy."
Georgian Wines Rules Of Thumb
If you're new to the world of Georgian wines or are an enthusiast who wants some seasoned advice, our experts have a few tips to make sure you pick out the perfect bottle. The first one is to carefully look at the wine label to garner important information. "On our labels, we do distinguish short descriptions of wine style, so one shopping for Georgian wine could have hints about the color, style, and flavors," Khmelidze advises. "Also, having noted that wine is skin contact is very important, not to be misunderstood as light fresh white."
Honnef echoes the importance of discerning what's on the label. "If it is a wine made in the traditional qvevri style, that normally provides intense wines with the profile that I described already," he says. "If it is not specially mentioned on the label, it is mostly a wine made in the classical international style. This helps for sure to find the general wine style between fresh and crispy or exotic and powerful."
Another piece of advice Honnef shares is location, location, location. "It can help to identify, from which part of Georgia comes the wine," he explains. "The climatic diversity delivers more ripe, rich, and powerful wines in the east of Georgia (Kakheti), [those that are] balanced elegantly in the center (Kartli), and crispy fresh mineral [varieties] in the west of Georgia (Imereti)."
Take your palate on a journey to the Far East and uncork both styles of Georgian wines at home with these expert-approved picks, ahead.