50 Cool, Cheap Home Upgrades You Can Get On Amazon That Actually Look Expensive
From linen curtains to bar cart upgrades, a sleeker home is just a few clicks away.
Amazon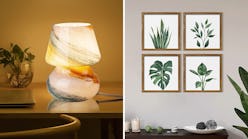 We may receive a portion of sales if you purchase a product through a link in this article.
From clever organizational solutions to cozy furnishings, there's no shortage of home upgrades you can get on Amazon. Still, products that are both functional and aesthetically pleasing are relatively rare. But that's not the case with these 50 cool, cheap home upgrades on Amazon that actually look expensive (and will make your home run a lot more smoothly).
Ahead, you'll find everything from bar cart upgrades that will impress your guests to DIY-friendly home improvement projects — all for less than $50. And though these products may seem cheap, they look anything but. A more beautiful, impressive home is just a few clicks away.
This article was originally published on