40 Common Mistakes You Don't Realize Make Your Home Look Cheap
And the solutions are much easier than you'd think.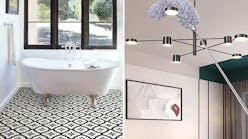 We may receive a portion of sales if you purchase a product through a link in this article.
Logic would dictate that achieving an expensive-looking home requires an investment to match. But logic doesn't necessarily prevail on this one. In truth, creating a home you're proud of can be a matter of making a few simple swaps. Start by amending these common mistakes you don't realize make your home look cheap — and relish in the instant results.
From cleaning grimy tile grout to solving the pet-hair-everywhere dilemma, let this list of common household mistakes inspire you to make a few thoughtful decisions about how to organize and decorate your home.
This article was originally published on