Dopamine Decorating Your Home Is More Effective Than You Think
@pippilottaaushamburg .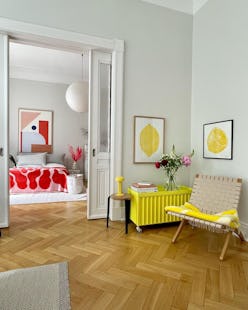 We may receive a portion of sales if you purchase a product through a link in this article.
From our walls to the furniture in our abodes, dopamine colors are this season's newest fad for all the right reasons. For starters, these high-octane shades quite literally help to instantly lift one's mood (yes, there's science behind that). Think vibrant bold hues that immediately catch the eye such as bold reds, greens, and oranges, that invoke a sense of inner happiness all while helping us to express our edgy side.
"Dopamine decorating is about surrounding ourselves with furniture, art, and objects that bring us joy, and that feel authentic to our personal tastes," says Grace Baena, interior design expert at Kaiyo. "In furniture shopping, the thrill of the hunt is completely dopamine-inducing, particularly when you come across a gorgeous piece in a bold, interesting color. This summer, in particular, we're paying attention to bright shades of reds and oranges (like ruby, tangerine, and terracotta).
For those who are hesitant to dip their toes in the fluorescent pool, Marie Joh, Head of Merchandising at the home interior boutique, The Six Bells, encourages you to start small with statement coasters or placemats and neon yellows and greens paired with neutral colors. "Remember the lessons of the mid-2010s and pair your neons and brights with neutrals (think: light tan with bright orange, navy with bright green, and buttercream with highlighter yellow) for a grounding effect. Start small with statement coasters or placemats," says Joh. Depending on the hue and application, these colors can help create spaces that hit a variety of vibes (depending on the decor and colors you go with), from earthy and relaxed to more space age-y and modern.
"Try an accent chair, lamp, or paint on just one statement wall," Baena recommends. "Smaller touches like this will give your space the refresh you're craving, and make your space feel fresh and fun. Dopamine decorating doesn't mean you need to fully commit to color everywhere."
So without further ado, ahead, a few accent pieces we're loving this season to incorporate into your home if you're thinking about making the bold color switch.
Bold Red Accents
Red has been a high-fashion shade on red carpets this year, so it's only natural that its allure is seeping into the home. The fiery hue invokes a sense of passion, energy, vigor, and beauty, therefore creating the perfect summer ambiance for your space.
Calm Terracotta
Serving as a warm, earthy hue, terracotta brings with it a connection with nature's elements and symbolizes strength, balance, and restoration.
Tangerine Dream
Although fairly similar to its sister color orange, tangerine (which features cooler, more yellow-y undertones) is most commonly associated with youth, happiness, and the sun's warmth.
Lemon Yellow
Almost instantly evoking a sense of inner happiness, yellow represents sunshine, joy, and courage. The color pairs well with summer interior accents as it can serve as a reminder for all that summer is all about fun and a little adventure.
Gleaming Green
Symbolizing new beginnings, growth, and renewal, green accents are the perfect way to start afresh this season.