40 Clever Home Upgrades Under $35 That Hide The Eyesores Around Your Home
A prettier home is just a few clicks away.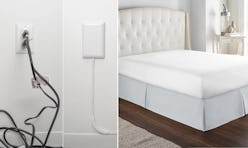 We may receive a portion of sales if you purchase a product through a link in this article.
Even in the most beautiful, thoughtfully curated homes, things like cords, clutter, and not-so-aesthetic essentials (think TV remotes, tissues, and eyeglass cases) can be a threat to the overall vibe. Luckily, we live in a time where there are genius organizational solutions and clutter-concealing products right at our very fingertips — namely, that is, on Amazon — that can make your home look so much prettier. Interested? Then allow us to introduce you to these clever home upgrades under $35 that hide the eyesores around your home.
From stick-and-peel tiles that will disguise your old, outdated bathroom floors, to furniture with built-in hidden storage, you'll find plenty of products ahead that you probably didn't realize existed — and solve problems you didn't think could be fixed. (Some other examples? Markers that conceal scratches on wood furniture, secret drawers that can be stuck under any cabinet or desk, and countless management systems for your cables and devices.) Best of all, none of these products will break your budget, and they're all conveniently available on Amazon Prime. So, if you're always on the hunt for ways to transform your home into a more calming, tidy space, this shopping guide is bound to be right up your alley.
Keep scrolling to discover the 40 products under $35 that will seriously upgrade your home.