65 Clever Gifts For Men That Seem Expensive But Are Actually Cheap AF On Amazon
Whether you're shopping for a picky dad or new boyfriend, these budget-friendly gifts are guaranteed to impress.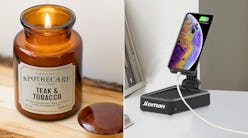 We may receive a portion of sales if you purchase a product through a link in this article.
Is it just us, or are guys the hardest to shop for? From dads who swear they don't want anything to new (or newish) boyfriends you're just getting to know, it's natural to want to make the person you're shopping for feel special and seen. Whether you're stumped on ideas or you're trying to stick to a budget, you can stop stressing now, because ahead, you'll find 65 clever gifts on Amazon that seem expensive, but are actually cheap as hell.
To figure out what it is the men in our lives really want, our editors went straight to the source. Friends, boyfriends, colleagues, and picky parents helped us put together this epic list of gift ideas that are guaranteed to impress. A sampling of what guys are lusting after this year? Fleece-lined sweatpants, Carhartt coolers, portable hammocks, fluffy UGG socks, insulated growlers, and gadgets galore (don't worry: None of the products on this list cost more than $40 — tech stuff included.)
You might be surprised by how clever these budget-friendly gifts are — and may even wind up picking out a few things for yourself. To see all of the best gift ideas for men on Amazon, just keep scrolling.