Make Butternut Squash Fries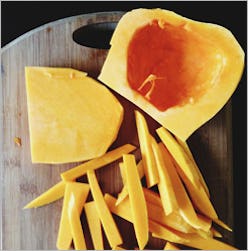 Craving a healthy summer snack? Blogger Katelyn Rose of Suddenly Darling has you covered with a delicious (and gluten-free!) recipe for Butternut Squash Fries! Whip up a batch for your next summer soirée and your guests will eat them right up.
Click through for Katelyn's recipe!
Gather your ingredients:
1 medium butternut squash, peeled, deseeded and cut into thin slices 1 Tbsp extra virgin olive oil 1 tsp sea salt 1 tsp cinnamon (optional)
Preheat oven to 400º. Place a cooling rack or parchment paper on two baking sheets.
In a large bowl, add all the ingredients and toss with a wooden spoon to combine.
Lay squash on the baking sheet in an individual layer. Bake for about 25-45 minutes (turning pieces over halfway through) or until the fries look golden brown and crisp on the edges.
Once fries are baked, serve immediately with your favorite dipping sauce! Enjoy!