9 Boutique Hotels Where The Interiors Are Shoppable
These properties elevate the concept of souvenir.
@lesirenuse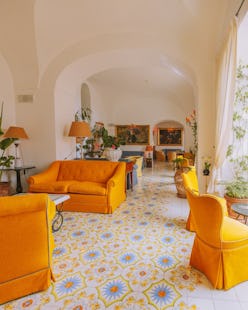 If you've ever stayed in a stylish accommodation where you wished you could translate the design aesthetic straight into your home, there's a growing trend worth taking note of: shoppable hotel rooms. The concept is simple enough, a property that allows guests to purchase select items they've spotted during their stay such as furniture, bedding, artwork, and beyond. Sometimes it's the entire hotel, other times it's just one standout room. Such is the case with the Sir Paul Smith Suite at Brown's Hotel in London which was created in collaboration with British designer Paul Smith and Olga Polizzi, director of design at Rocco Forte Hotels. Inside? A fanciful hodge podge of trademark stripes, antiques, contemporary artwork, and decor accents to boot. The suite goes for £5,500 a night and vibrant design highlights include a brass-banana door handle and a Mario Bellini 1970s leather desk chair.
Of course, there are shoppable hotel interiors that won't cost you several months' rent, as well. Shinola Hotel in Detroit has been doing this since its opening in 2019 and many properties have begun incorporating shoppable elements into the guest experience, like Hotel Figueroa's Rest and Recovery Suite, where you can pre-order a customized pillow from Pluto Pillow to sleep on while you're there and take home with you. From boutique hotels in the southwest where you can select an antique that speaks to your personal taste all the way to hand-painted ceramics on the Italian coastline that you can enjoy a morning pastry on both in the hotel and in your own kitchen, continue below to discover nine standout boutique properties with shoppable interiors.
Mona: Athens, Greece
A hidden gem tucked away on a narrow street within the Psirri neighborhood of Athens, Mona strikes the perfect balance between boutique hotel and design studio. There's no designated shop — and this is with intention. The hotel uses its interiors as a showroom with design objects, art, and furniture available for purchase. Take the bedroom, for example, the raw cotton sheets, signature robe, and olive-treated mattress are all available to buy (as are the custom-made couches designed locally by the House of Shila team). For those looking for something on the smaller side, photographs, jewelry, paintings, and ceramics are also part of the team's handpicked selection and there are even fashion pieces hanging in the suite upon guests' arrival. Purchase all of this through the room's iPads or when you check out.
The southwest has long been a source of inspiration for design lovers, which is why Object Hotel in Tucson, Arizona is an instant favorite for those obsessed with interiors and travel. The property takes cues from the desert landscape and its culture and offers two historic establishments: Desert Rose and 29 Main Street (the first an adobe structure in downtown built in 1880 and the latter an Italianite building stocked with vintage furniture). The hotels' concept centers around the intersection of vintage and creativity and guests can purchase from an expertly-curated selection of furnishings and decor to take a piece of Object Hotel back home with them.
Saint-Lazare is a well-known name among aesthetes — it's a studio of artisans, brand builders, architects, and art curators with outposts in New York City and Paris. They're behind Le Barn Hotel outside Paris and Les Sources de Cheverny in the Loire Valley. The latter is a retreat burrowed in an ancient forest with a smattering of storybook buildings including a period French château, a small hamlet of cabins, and traditional stone houses. Each of the 49 rooms and suites is uniquely decorated with antiques and gorgeous handcrafted pieces that will have you ready to redecorate your entire home. As luck would have it, their e-shop A.S.L. was created with this in mind, and the selection of furniture, art, and objects are inspired by the studio's work at both Le Barn and Les Sources (think: wood-crafted pieces, tabletop lamps, wool blankets made in the Pyrénées, and an online gallery where you can purchase vintage posters, photographs, and other pieces of art — all sourced by Saint-Lazare's art curators).
Attention all Glampers: Collective Governors Island has recently unveiled three new retreat accommodations that are perfect for a fall getaway. Our favorite? The Outlook Villa, thanks to a suspended fireplace that will deliver peak cozy vibes for October. The entire unit is shoppable and includes pieces like a Sixpenny sofa, Lulu and Georgia bedside tables, and locally-made candlesticks and artwork. If you're not familiar, this property is set on 173 acres of green space overlooking the NYC skyline and is accessible via just an eight-minute ferry.
Situated in the trendy South Congress neighborhood of Austin, Hotel San José was once a motor court but is now a stylish boutique hotel in the Texas minimalist style. It's creative and quirky in all the right ways (for example: they have typewriters and Polaroids to borrow) and the property is part of Bunkhouse group, which means there's a distinct retail collection with pieces from the rooms and public spaces. In the bedroom, guests can purchase the kimono robes made in a government-sponsored co-op in India, the reversible 100% cotton duvets, and delightfully cozy pillowcase sets. There are also other decor pieces found throughout the property that are shoppable, like candle holders and wine glasses.
Marseille was seemingly on everyone's travel bucket list this summer, but if you didn't make it to the south of France, let Southway Studio serve as yet another motivator. It's a hotel and gallery that's furnished and decorated by artists in residence and is situated in a house that dates back to 1880. For those with a penchant for immersive art, make your way to this neo-classical meets southern France slice of heaven for a trip you won't soon forget (particularly if you purchase a piece of artwork from your stay).
Inness: Accord, New York
For serene vibes all around, head for INNESS in Upstate New York. This property sits on 225 acres and has 40 rooms plus a restaurant and lounge. Outdoor dwellers will have plenty to relish — the hotel is surrounded by hiking trails, tennis courts, an organic farm, and even a 9-hole golf course designed by King Collins (a sports outfitter). It's the kind of place you want your home to feel like all year round, which is made slightly more possible with their online shop that sells everything from incense holders and wavy vases to serving trays and wooden spoon sets (also: a shoutout to these gorgeous hand-painted plates!).
A small boutique hotel with a grand reputation, Le Sirenuse in Positano is a staple stay for those who flock to the Amalfi Coast. The hotel's shop — Emporio Sirenuse — has been around for the last decade and offers a small selection of design and lifestyle items that can be found throughout the hotel (as well as a curated collection of beachwear and resortwear sourced from artisans in Mumbai, Delhi and Kolkata). Infuse your home with the spirit of the Mediterranean through something like a traditional souzani hand-embroidered pillowcase or a colorful hand-painted ceramic charger.
If you're looking for somewhere to go off the grid, head for Taos in New Mexico. Casa Gallina in Taos, to be exact. This collection of five historic casitas celebrates handmade and locally crafted furnishings and products, almost all of which are available for purchase by guests. The owner works with small and local businesses, artists, and farmers to uniquely create each adobe. Days here can be spent curled up by the Kiva fireplace, reading in a hammock with mountain views, or whipping up a cozy home-cooked meal in the kitchen.
Tucked away in Braemar, Scotland is The Fife Arms — a historic boutique hotel built in the 19th century and located in the heart of Cairngorms National Park. The structure blends Victorian and Scottish Baronial styles and the interiors focus heavily on the owners' collection of artwork and antiques. The house tartan was created by Scottish textile artist Araminta Campbell and can be found all across the property. Should you fall in love with the pattern (highly likely), guests can purchase retail products featuring the tartan, cashmere blankets, dog coats, picnic baskets, and more.