Boozy Ice Cream Is The Best Way To End The Summer Season
This childhood treat just got an upgrade.
Courtesy of Jojo Whiskey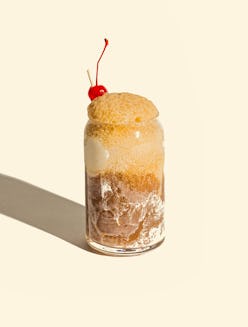 I scream, you scream, we all scream for ice cream... with booze! That's right. Ice cream is making the transition from a cone to a cocktail glass. The sweet creamy delight has been a staple dessert and summertime snack for almost everyone since childhood, but recently mixologists have been turning to the tasty frozen treat to elevate their favorite spirits.
According to Jane Danger, national mixologist at Pernod Ricard, the origin of ice cream drinks can be traced back to Midwestern supper clubs. She cites Wisconsin as the likely pioneer for the dessert-happy-hour hybrid, likely due to the fact that the blender was invented there.
Though ice cream cocktails may have gained their footing in the Midwest, she notes that they've picked up in popularity throughout the country (and the world) quickly over the years. "There are a lot of synergies between cocktails and desserts — both can serve as an indulgent treat and [be] enjoyed during special moments with friends and family," she explains. "So why not mix them to get the best of both worlds?"
Jessica Neblina, a bartender at Employees Only in West Hollywood, California, and a brand ambassador for Mezcal Amarás, credits ice cream cocktails' popularity to nostalgia. "When we were younger, we had root beer floats and Creamsicles, and I think this has recently [evolved] to the adult version of what we drink now," she shares.
Danger seconds this notion, adding that nostalgia has sparked a return to classic sips and treats in general, including a renaissance of classic cocktails like negronis, martinis, and sours, allowing customers to reminisce with their palate. As far as the trajectory of the ice cream cocktail trend, Danger predicts that we can expect more razzle-dazzle. "I believe people will always be drawn to a spectacle when it comes to enjoying cocktails — they enjoy an over-the-top, luxurious experience, and ice cream in cocktails definitely fits that bill."
Ice Cream Cocktails Rules Of Thumb
When it comes to creating your cocktail concoction at home, there are endless options for spirits and ice cream flavors that can make it hard to choose a specific recipe. Our experts have some tips to help narrow it down so you can spend more time drinking than deciding.
"I love pairing dark spirits with ice cream because they feel especially rich and indulgent," Danger says. She's particularly fond of The Glenlivet's Founder's Reserve when it comes to this type of dessert drink because of its fruity notes and hints of toffee with a long, creamy, and smooth finish.
Neblina on the other hand is partial to mezcal, gin, and whiskey when it comes to cold and sweet treats. "Gin has a great botanical base that also can pair well with citrus and herbal ice cream, and whiskey can be paired well with chocolate flavors like caramel and butterscotch," she explains, adding that mezcal works well with fruit flavors.
While the world is your oyster, err, ice cream cone when it comes to frosty options, there are a few you might want to stay away from. No. 1 on Neblina's list is anything that's too sweet. "Candylike ice cream flavors can be strange to pair with booze, such as bubblegum or rainbow sherbet," she advises. "Some flavors are complex already, and an extra booze element might get lost in the process." Danger cautions at-home mixologists about the opposite end of the spectrum. "Let's just say besides a pinch of sea salt or olive oil, be mindful of the use of savory ingredients," she states. "I'm not saying don't experiment. Just use with caution."
In addition to the flavor of ice cream, Neblina warns not to substitute ice cream with frozen yogurt, or anything for that matter. "The type of ice cream [definitely matters because the] fat content [of other frozen desserts] can change and hold to liquor differently," she says. "Flavor will come together when the liquor is paired with the base of the ice cream."
Once your ingredients are chosen, Danger's next tip is to make sure everything is cold or coming from the freezer. "Chill your glassware before to give yourself a nice window of time to garnish and get your drink to your guest before it begins to melt," she instructs, adding that the order of assembly in a boozy beverage with ice cream is also paramount to the success of the drink. "When making an ice cream cocktail, you should add the ice cream last," she says. "This helps you control how fast it is melting."
Ahead, expert-approved recipes to make your ice cream wishes and cocktail dreams a reality!
Pistachio Paradise
Danger says this unique whiskey drink imaginatively combines ingredients to create what she considers a "chill cocktail."
Ingredients
2 ounces The Glenlivet Founder's Reserve
0.5 ounces lime juice
4 ounces pistachio ice cream
Optional: Dash of orange blossom or rose water
Instructions
Combine ingredients in a shaker. Fine strain into a coupe or small wine glass. Garnish with honey and finely chopped pistachios.
P.S. I Love You
"This cocktail reminds me of a spritz with my favorite spirit, mezcal," Neblina says. "To make it so much more perfect for the hot summer is some added sorbet."
Ingredients
1.5 ounces Amarás Espadín Joven
2 ounces brut prosecco
1 scoop tangerine sorbet
Decorated with two mint leaves on top of the sorbet
Instructions
Build in an Irish coffee glass (or double rocks glass). Start with the mezcal, then add prosecco. Top with a single scoop of tangerine sorbet and stir gently. Garnish with a mint sprig for an aromatic touch.
Float On
Recapture the feeling of nostalgia with this whiskey, ice cream, and cola concoction. Vanilla ice cream brings sweetness and creaminess to the traditional "float" drink. The addition of coffee liqueur makes for an extra tasty treat.
Ingredients
2 ounces Jojo Whiskey
1 ounce coffee liqueur
1 large scoop of vanilla ice cream
Coca-Cola
Garnish: Maraschino cherry
Instructions
Pour whiskey and coffee liqueur into a Collins glass and stir lightly. Add in a scoop of ice cream. Top with Coca-Cola and cherry.
Mexican Espresso Martini
For those looking for an extra jolt from an espresso martini, the search is over. Tequila and a scoop of Jeni's Mexican Hot Chocolate ice cream bring the heat and the spice to this elevated, easy-to-make version of the popular coffee cocktail.
Ingredients
2 ounces Solento Reposado
2 ounces fresh brewed espresso (option for decaf)
1 scoop of Jeni's Mexican Hot Chocolate Ice Cream
Instructions
Scoop ice cream into a coupe glass. Pour fresh espresso over the ice cream. Finish with Solento Reposado on top. Allow the flavors to melt into one another and stir gently.
Woodford Reserve Mint Julep Milkshake
If you were a fan of shamrock shakes as a kid, this adult mint julep will be like the pot of gold at the end of the rainbow.
Ingredients
2 scoops vanilla ice cream (or mint chocolate chip ice cream)
0.75 ounce mint honey syrup
1.5 ounces Woodford Reserve Bourbon
Q Kola
Instructions
Blend all ingredients in a blender and garnish with a paper straw, a large sprig of fresh mint, and grated dark chocolate.
Avaline Sparkling Float
Celebrate the every day or a special occasion by whipping up this sorbet-infused sparkling sip. This simple cocktail allows the sorbet of your choosing to be the star so it can be customized to your liking. This sweet drink is worth savoring.
Ingredients
1 scoop of your favorite sorbet (raspberry + rose sorbet is the best!)
3-4 ounces of Avaline Sparkling Wine
Handful of fresh raspberries
Directions
Fill your coupe glass with a scoop of your preferred sorbet. Pour 3-4 ounces of Avaline Sparkling Wine on top. Sprinkle with fresh raspberries, and you're good to go.