The Best Wood-Wick Candles
We only recommend products we love and that we think you will, too. We may receive a portion of sales from products purchased from this article, which was written by our Commerce team.
Amazon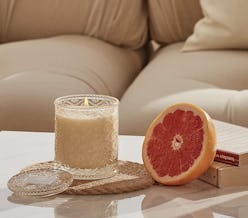 A scented candle can bring effortless ambiance to everyday spaces, and the soft crackling of a wooden candle wick only enhances the experience. Whether you gravitate toward earthy, herbal notes, or prefer floral or tropical aromas, the best wood-wick candles can be found in a range of fragrances and wax types, and come packaged in vessels that bring style to your home.
Candles with wood wicks are made with a variety of waxes, and the one you choose will impact how cleanly it burns, as well as how effective it is at filling your space with fragrance. While paraffin and synthetic waxes are budget-friendly options that hold and throw fragrance well, they can sometimes result in a smokier or sooty burn. Candles made from naturally derived materials such as soy, beeswax, or coconut tend to burn cleaner, though they may emit a more subtle fragrance. (Note that beeswax may give off a slight honey scent, but it also has the unique benefit of purifying the air.) Whichever wax type you choose, your candle's size and how well you care for it will affect the overall burn time and burn quality.
Unlike traditional candles with cotton wicks, wood-wick candles don't need to be trimmed, however, they require special care to optimize their burn time and burn quality. To ensure your wood-wick candle has a clean, long-lasting burn, it's a good idea to keep it lit for at least two hours at a time to allow the top layer of wax to liquify, which will encourage your candle to melt flat, rather than into a tunnel.
Vessels vary widely, from metallic jars to lidded glass canisters, so you can get the look and fragrance that best reflects your aesthetic. Below are the best wood-wick candles that will upgrade your environment with scent, sound, and style from the moment you light them.