The Best Pillows For Side Sleepers
Unexpectedly supportive options for a good night's sleep.
Amazon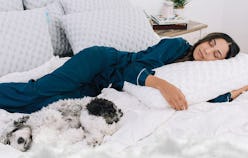 We may receive a portion of sales if you purchase a product through a link in this article.
Not all pillows are created equal — especially if you sleep on your side. Since your shoulder creates a larger gap between your head and your mattress, it's easy for your neck to lack support with a standard pillow. Consequently, the best pillows for side sleepers will be taller, denser, and use durably supportive materials to offer a more ergonomic design.
What To Look For In Side-Sleeper Pillow
Loft: The loft is the height or thickness of your pillow and no matter what position you sleep in, your spine should be in as neutral a position as possible. For side sleepers, that means you'll need to fill in the gap between your ear and the mattress, so a thicker pillow is usually better. While the exact loft will differ depending on your preferences and body, the pillows below range from 4.1 to 7.5 inches in height, and many of them are adjustable.
Density: Oftentimes, a soft, fluffy pillow will collapse under the weight of your head. A denser, firmer pillow will help you maintain an aligned spine as a side sleeper, and the density will depend on the material and how much filling your pillow has.
Material: Because it's comfortable yet firm, shredded memory foam is a popular option for side sleepers — especially when you can add or remove it to adjust the loft and density. And cervical pillows are often made from solid memory foam for more structured support. There's also a pillow on this list that uses a combination of a GelFlex hex grid and latex, which adapts to your position without flattening.
Design: Is your pillow large enough to fit your bed and your body? Does it have a removable cover made from cooling materials if you're a hot sleeper? How about a contoured shape that also supports your shoulder and your arm? The options below offer all of those features and more.
Shop The Best Pillow For Side Sleepers
In a hurry? Here are the top picks for side-sleeper pillows.
1. The Overall Best Pillow For Side Sleepers
Pros:
Adjustable loft and density
Curved to better accommodate your shoulder
The Zoey side sleep pillow is an adjustable pillow designed specifically for side sleepers. It allows you to unzip the inner liner and add or remove shredded memory foam as needed to adjust the loft and density. However, it's also curved on the bottom to accommodate a side sleeper's shoulder, not to mention wider than most to offer plenty of support. Other great features include its zippered, washable outer cover, CertiPUR-US and OEKO-certified materials, and a 30-day money-back guarantee. Get it in gray or white.
One reviewer wrote: "This pillow is absolutely amazing. I don't know exactly how they came up with this design but for sleeping on your side, the curve helps me keep my shoulder out of the way. [...] I am actually looking forward to going to sleep now. Before sleep was just a task, something I had to do."
Filling material: adjustable shredded gel-infused memory foam | Maximum height: 8 inches (adjustable) | Other available sizes: King
2. A Reviewer-Favorite Pick
Pros:
Has an overall 4.4-star rating after more than 8,000 reviews
Can be flipped for four total height options
Made from dense, structured memory foam for support
This Royal Therapy cervical pillow has three layers of structured memory foam. It's earned an overall 4.4 stars after feedback from more than 8,000 reviewers, and while it is designed for multiple sleep positions, its versatility makes it a fan-favorite for side sleepers. For one, the curved shape is 3.9 inches high on the bottom and 4.7 inches high on the top, so you can flip it depending on your preferences. For another, you can remove the middle layer of foam to decrease the loft, but the structured density and curved shape will cradle your neck and head well.
One reviewer wrote: "For most of my life I have been using pillows that kept my head at an awkward angle or let my head sink too much into them, which I didn't like, either. I would wake up repeatedly to adjust and prop up my pillow. I'm a side sleeper and tried this pillow without the middle layer and it was perfect. It took me about two days to get used to not having a large pillow, but after that my sleep improved greatly. I bought a second one. No more expensive fluffy feather pillows!"
Filling material: structured memory foam | Maximum height: 4.7 inches | Other available sizes: none
3. The Best Value
Pros:
Two pillows with each order
Adjustable shredded memory foam
Double-sided with a cooling gel surface for hot sleepers
Whereas most adjustable pillows are more than $50 apiece, this affordable two-pack cuts that price in half for an incredible value. And since you can easily add or remove the shredded gel memory foam filling, you can get a bespoke loft for your needs — which, in the case of a side sleeper, would be tall and firm. In addition, these pillows also have a clever double-sided design: Sleep on the bamboo side for soft breathability, or flip it over to the cooling side if you're a particularly hot sleeper.
One reviewer wrote: "I have to admit I was doubtful that these pillows would fluff up to my satisfaction. However, I followed the instructions and now I am impressed. I have had the best nights of sleep. I would recommend these pillows to any side sleeper who likes a pillow that doesn't make you feel like your head is sinking in quicksand. I also appreciate that they are adjustable. Meaning that you can add or remove the filling to your liking."
Filling material: adjustable shredded gel-infused memory foam | Maximum height: N/A (adjustable) | Other available sizes: Standard, King
4. A Best-Selling, Uniquely Contoured Pillow
Pros:
Carefully designed to support the spine's natural contours
Can be customized to your preferences
Comes with a 100-night trial
For those who struggle with neck (or back) pain, the Osteo Cervical pillow is "worth the investment" and "fabulous for side sleeping," according to reviewers. It has earned a best-selling status in the specialty medical pillows category, and its curves and designated zones cradle your spine, accommodate your shoulder, support your arm, and cushion your head. You can even remove the center memory foam piece for a softer density, or you can contact the brand for an additional insert if the pillow is too low. Each order comes with a cooling mesh-fiber case to boot.
One reviewer wrote: "I am a side sleeper. [...] I swear to the heavens that this pillow is absolutely the most amazing pillow I have ever owned. I do not wake up with neck problems. I do not wake up super tired anymore. I do not wake up with a sore numb arm and I do not wake up in pain."
Filling material: structured memory foam | Maximum height: 4.1 inches | Other available sizes: Standard
5. A Great Option For Combination Sleepers
Pros:
Uniquely supportive material that maintains its loft
Cooling and breathable for hot sleepers
Multiple heights available
Maybe you're predominantly a side sleeper — but if you have a tendency to switch to your back or stomach throughout the night, the Purple Harmony pillow (in the medium or tall height) is worth the splurge. Instead of memory foam, down, or synthetic fill, it uses a special hex grid with a Latex core that maintains its loft. As a result, it comfortably adjusts to your position, but still provides ample support without flattening. The mesh cover and well-ventilated grid makes it a good option for hot sleepers. Finally, it is made from hypoallergenic, food-grade materials, and is CleanAir GOLD and CertiPUR-US certified.
One reviewer wrote: "I've not found a good pillow for the last several years. I was at the point of rotating among the pillows I had every 4-6 weeks. Was very skeptical to spend a lot on one pillow, especially since I rotate a lot. But this pillow blew my mind. I have had it since the end of January and haven't had to change. Greatest pillow on the planet. VERY supportive whether you're a side or back sleeper or both. It keeps your neck straight as you sleep."
Filling material: GelFlex hex grid and Latex | Maximum height: 7.5 inches | Other available sizes: Standard (low, medium), King (low, medium, tall)
Also Consider: This Pillow That Supports Your Whole Body
Pros:
Supports your whole body with its U-shaped design
Machine-washable cover comes in several colors and materials
While it's marketed as a pregnancy pillow, plenty of non-pregnant people (including side sleepers) rave about this PharMeDoc body pillow. It has a U-shaped design that supports and cradles your body from head to toe, so it helps to support your spine and knees throughout the night. Plus, the cover is available in four colors. Plus, the zipper cover is removable and machine-washable.
One reviewer wrote: "This pillow is great for side sleepers. Or if you like building a nest around you to sleep. Very comfortable especially between the knees. I love it, I recommend it for a more comfortable night's sleep."
Filling material: polyfill | Maximum height: 7 inches | Other available sizes: none