The Best Babymoon Destinations In The World, According To Travel Pros
Time to book your final getaway before the new arrival.
Shutterstock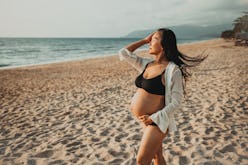 Like everything else made popular overnight, social media can be credited for the meteoric rise of the babymoon, the latest trend in destination travel. At this point, we've all seen the idyllic photos of pregnant parents-to-be on white sandy beaches, splashing around in turquoise waters. This specific getaway is typically seen as the final trip you take as a party of two before the baby arrives — which is why it's important to pick the right spot. You don't want somewhere with high altitude, too many bugs, too many people, too much walking, or too remote or far from your doctor (or any doctors, for that matter). According to Dr. Naomi Suriel, M.D., of Women's Care of Beverly Hills, pregnant patients without prior medical conditions are cleared to fly up to 35 weeks of pregnancy, and she also recommends not flying over large bodies of water after 32 weeks in case of emergency. Which begs the question: What makes for the best babymoon destination?
Many couples opt for drivable road trip destinations while others head for tropical spots like Hawaii, Mexico, or the Caribbean (depending on where they are in their pregnancy). The special trip to mark the occasion of entering an exciting new chapter "allows the mom to feel spoiled, relaxed, getting to experience something new but also that doesn't remind her of what she's missing out on while waiting to have her baby," says Michael Torbiak, top travel advisor from boutique travel agency Genuine Access. "I'm not going to recommend St. Barths or St. Tropez for a trip like this because drinking, staying up late, and dressing the part are all parts of trips to these spots. Japan is also out just because looking at all the sushi they can't eat would be heartbreaking," he says of his travel tips.
Parents-to-be are looking for bucket-list places on their babymoon list but also spots that cater to their gestational needs — think: prenatal massages and activities that won't limit people who are carrying. "I wouldn't send them to Paris or any other major city where they'd most likely want to walk and explore a lot. The key is finding a comfortable resort where they are ensconced in comfort while still getting a special and memorable stay," Torbiak adds. Read on for a list of places to satisfy all of your babymoon cravings.
Amangiri: Canyon Point, Utah
Located in a remote location, but close enough to Page, Arizona (a 25-minute drive), Amangiri is ideal for babymooners as it's the perfect spot to disconnect from the world and have a restorative experience before the baby arrives. With desert landscapes of canyons, mesas, ridges, and gorges, the serene setting makes it an ideal destination for relaxation. "A babymoon getaway at Amangiri offers couples some treasured time together before their family grows," says the general manager of Amangiri, Audrey Huttert. "From gentle hikes to pampering spa treatments or just relaxing by the pool, future parents can unwind in Amangiri's serene and quiet surroundings, feeling ready to face an exciting chapter of their lives."
While the property doesn't have an actual babymoon package, guests are encouraged to build their own experience with leisurely hikes on the property's various walking trails and the spa's Mother-to-Be Massage using Swedish techniques to ease pain and improve lymphatic drainage and circulation. According to Torbiak, the destination also offers treatments that aren't massage-focused. "The whole place lends itself to relaxation and meditation while also delivering a near-once-in-a-lifetime trip for most. It being located in the U.S. is also a pro as most clients want and should be near to their doctors and medical centers they feel comfortable with," he says.
Grace Bay Club: Providenciales, Turks & Caicos
The Baby Bliss package at the iconic Grace Bay Resort is what babymoon dreams are made of. Most international flights fly into the island of Providenciales and the airport is only a 20-minute drive from the resort (so no tiny planes needed here). Enjoy a prenatal massage on the terrace of your private ocean view suite, a boat escort to a private picnic for two on a secret beach, daily 15-minute poolside foot massages, and of course a Grace Bay Resorts branded onesie to take home for when your baby arrives. Sitting on pristine white sand beaches with turquoise blue waters, the property also offers a special room service menu featuring upscale versions of common pregnancy cravings such as chicken tenders and pizza, as well as a selection of sparkling beverages for those dealing with indigestion.
The best part of this package, however, is not the pregnancy-proof menus, but the underwater maternity photo shoot with the backdrop of the third largest barrier reef in the world. "The Caribbean is also popular as it's a short flight back home for East Coast clients," says Torbiak. "Lounging on a beautiful beach is always a good idea, pregnant or not!"
Located inside the Four Seasons Hotel Westlake Village is the Center for Health and Wellbeing, which offers tailored programs for guests with individual health goals. With accredited health experts offering thoughtful guidance, the center provides on-site dietitians, physiologists, and licensed therapists. Customized for welcoming a child to the family, the center's Wellness Stay includes overnight accommodations, all access to daily health and fitness classes, three "Feel Good" meals per day, and one Wellbeing Elective per day. An example of these "electives" includes a Private Life Strategies Consultation where a licensed marriage and family therapist will guide parents-to-be into discussing parenthood and personalized strategies for creating healthy habits as you journey through pre- and post-natal transitions. Guests could continue with the same elective each day or opt for a new one, such as a one-on-one consultation with a registered dietitian. The two-night wellness-oriented getaway starts at $2,900 per person.
When most people think "babymoon," they are immediately transported to the islands of Hawaii. On the Wailea side of Maui, check into the Four Seasons Resort Maui for pre-baby bliss. "Maui is such an ideal escape for expecting parents and our team loves to shower these special guests with extra amenities, like custom bed toppers and body pillows for the ultimate night's sleep," says general manager Ben Shank. "As a father of three, my advice is lazy days soaking up the sun at our famous adults-only Serenity Pool, an oceanside couples massage, and sunset beach walks."
For the more adventurous couples, explore the Haleakala Crater during sunrise — take your time driving up to avoid altitude sickness. Another option is partaking in one of the water activities: hit the ocean on a stand-up paddleboard, sign up for a boat tour, or snorkel around Molokini Crater, an underwater volcano islet known for its vibrant marine life.
Near the busier Kaanapali side of the island is Montage Kapalua Bay — nestled by three white sand beaches. Here, expecting couples can find authentic Hawaiian culture, cuisine, and relaxation. Opt for the Maui Romance treatment at Spa Montage, where couples share a coconut milk bath in a stone-carved outdoor tub followed by an alfresco massage. Expecting mothers can also indulge in Hapai body polish (scrub) and Hapai massage — a prenatal treatment providing tension relief — and the Hapai facial, which addresses any skin concerns that may arise with an influx of hormones. Plan the perfect night in with a private dining experience at the historic Cliff House, where you will dine above the Pacific Ocean.
"I'd also recommend Cabo, as luxury and ease of travel have made it a premiere destination for couples. Properties there like Ritz Carlton Zadun and Las Ventanas feel super special to mark any occasion. They definitely aren't just another Mexican hotel experience," says Torbiak of a sampling of experiences at various hotels in the Los Cabos region.
For parents-to-be who haven't had a gender reveal yet, Las Ventanas offers a customizable fireworks display. The guests could customize the fireworks to be any color, making it an epic unveiling. The Rosewood property also offers two signature spa treatments for expecting mothers, including a cradle prenatal massage that aims to give relief and relaxation and a rejuvenating treatment that incorporates a body exfoliation and customized massage. If living it up before baby arrives is more your style, check out the on-site La Botica Speakeasy for a live Cuban band and nightly dancing.
Over at Esperanza, an Auberge Resorts Collection property, relax in your ocean-view room and enjoy the romantic, private beach resort's new babymoon package, aptly named "Hola Bebe." The package includes a four-night stay in a casita, pampering spa treatments for both parents-to-be, a private beachside dinner experience for two paired with mocktails, a scenic parental photo shoot, a 24/7 "cravings" menu personalized to the guests' favorite indulgences, and a special memory gift for the baby. The property also adds in sweet surprises for those celebrating a babymoon, such as celebratory balloons and sweet treats at turndown.
If babymooning with other kids in tow, check out the Four Seasons Orlando at Walt Disney World Resort. The 26-acre property offers luxurious rooms, a five-acre Explorer Island water park, a lazy river for a soothing eight-minute float around the lap, and a separate adult-only pool to get away from it all. With views of Disney World, the welcome amenity which features a full-body maternity pillow is only the beginning of a perfect babymoon. The spa offers specialty treatments such as a Maternity Caress Massage, featuring the cult-favorite line of Hatch non-toxic products. In the fitness center, there are maternity-friendly walking trails and activities such as prenatal yoga and a "Reverse River" aqua fit class. There's even a special room service menu created just for moms-to-be, featuring items like a milkshake with seasoned French fries. What's more? Your other children will be thrilled to be steps away from the Magic Kingdom.
Check into the stunning Rosewood Mayakoba, a 20-minute drive from the center of Playa del Carmen, where you'll be transported to an overwater bungalow (without having to fly to the Maldives or Bora Bora). Getting here is easy from both coasts — with a four- to five-hour flight from New York and Los Angeles, respectively, into Cancun airport. The welcome amenity to introduce you to a serene stay at the beachfront property includes balloons, a celebratory cake, and desserts — customized to the baby's name, gender, and due date. Here, the babymoon package is tailored to each guest with baby-inspired treats such as cookies and churros to satisfy cravings to Mayan-inspired prenatal massages and wellness treatments at Sense spa.
"At Rosewood Mayakoba, we apply the personalized and intuitive service that's intrinsic to our style to all our celebrations, however big or small," says Daniel Scott, regional vice president and managing director of Rosewood Mayakoba. "For babymoons, we offer customized touches and treats for the parents-to-be throughout their stay, from a collection of baby name ideas sourced from the whole resort staff to handmade crochet peluches (stuffed animals) and other baby toys."
While Post Ranch Inn may not have a babymoon package, it has wellness offerings that are too good to miss. For a scenic route, take Big Sur's rugged coastline (we don't recommend this drive for those who are still grappling with morning sickness), until you get to the cliffside luxury property. Check into one of the treehouse rooms to fully immerse yourself in nature. The spa offers couples Shaman experiences, plus couples' astrology sessions, herbal spirit journey, and a soothing prenatal massage, of course. Take daily nature walks, picnic in the woods, and wake up to the sound of crashing waves to make this babymoon one to remember.
If flying isn't an issue, take a quick trip to one of Italy's smaller big cities, Florence. A stay at the Four Seasons Hotel Firenze is one to remember — not only because of its picturesque grounds but also its unique amenities, just minutes from the Uffizi Gallery and the Duomo. The hotel offers unique opportunities, like a romantic alfresco dinner for two on the private fourth-floor terrace of the Ponte Vecchio, Florence's signature bridge, overlooking the Arno river. The four-course meal by Michelin-starred chef Paolo Lavezzini is available from May through October.
Getting to COMO Parrot Cay may not be the easiest, but it's doable. Fly straight into Turks and Caicos' Providenciales airport and you'll be greeted by a staff member from COMO who will take you on a quick drive to the marina, where you will take a 30-minute boat ride to the private island. Once you're there, you'll see why it's worth the trek. The sprawling 1,000-acre property offers guests unrivaled privacy with crystal clear ocean views. Here is the place for the parents-to-be who want to escape from it all and unwind without any distractions.
The island doesn't have any cars except golf carts and most people get around by foot or bike. Wellness is the focus at COMO and a must-do, in addition to those lazy beach days, is checking out the COMO Shambhala spa, a world-renowned wellness facility with a yoga pavilion, pilates studio, numerous treatment rooms, and an in-house Ayurvedic doctor. Indulge in the prenatal massage, specifically designed for all stages of pregnancy and which includes a floral foot bath, full-body massage, and relaxing facial massage. The holistic theme continues in restaurants, where the COMO Shambhala Cuisine marks a unique nutritional concept that incorporates organic ingredients rich in living enzymes, vitamins and sea minerals, plus raw food menu items.
For couples visiting the property on a babymoon, the one-bedroom beach houses look out on white sand dunes and offer direct beach access — the resort has a mile-long white sand beach. These rooms are fully equipped with a sundeck and private plunge pool as well. The hotel provides water activities but for something more intimate, charter a private boat and explore the waters around Parrot Cay or do a sunset sail around Turks and Caicos.
Based on the foothills of the Great Smoky Mountains, a U.S. national park, the expansive Blackberry Farm has been a tranquil escape for more than 80 years. Located just 25 miles from Knoxville, this Relais & Châteaux property is an award-winning destination with a 5,000-acre protected wilderness. The culinary arts are the focus here with farm-to-table (sourced from the property's four-acre garden) cuisine and a wine collection (for the non-pregnant parent) of more than 160,000 bottles from around the world.
The nightly rate includes dinner on the day of arrival through lunch on the day of departure. All pantry snacks and non-alcoholic beverages are included as well. Leave your phone in the room and head outdoors for fly fishing, sporting clays, restorative yoga, hiking, cycling, wellness activities, and other low-impact activities such as deep healing woods meditation and guided walks. Plus, when booking a Wellness experience, all other Wellness classes are included in your stay. The spa at Blackberry Farm offers a mother-to-be massage with highly trained therapists using lavender oil to relieve tension. "Surrounded by the tranquil beauty of the Great Smoky Mountains, we welcome parents-to-be to escape the modern-day frenzy and check into the Blackberry state of mind," says Blackberry Farm general manager Brian Lee. "With nourishing cuisine, intimate accommodations, and an on-site spa, The Wellhouse — couples will leave with a newfound appreciation for nature's ability to renew."
You don't have to travel to Africa to go on a wildlife safari while pregnant. Sign up for a customized four-hour expedition with the Four Seasons naturalist team in the Grand Teton National Park, the Bridger Teton National Forest, and the National Elk Refuge. See bears, bison, moose, and wolves from the resort's luxury SUV while enjoying gourmet snacks provided by the FS chefs — think of it as glamping but a wildlife safari version. Jackson Hole is all about getting outside, so take a 90-minute drive to Yellowstone National Park and picnic while taking in views of the falls from Artist's Point, wildlife in Lamar Valley, and geysers. Be sure to snap a prenatal photo in front of Old Faithful and shop for a plush Flopsie fox for your baby from the Bear Den Gift Store. The Four Seasons' Babymoon in the Tetons package includes spa services, dinner for two with mocktails, gentle yoga, and activities like horse-drawn sleigh rides or stargazing with an in-house astronomer.
Arguably one of the most breathtakingly beautiful resorts in the Caribbean, Jade Mountain offers a relaxing getaway where parents-to-be can enjoy a babymoon surrounded by St. Lucia's stunning natural setting. Featuring uninterrupted views of the famed Pitons (the two volcanic spires) surrounded by striking blue waters, butler service, and en-suite private plunge pools, the resort offers an idyllic getaway for expecting parents to be pampered before baby arrives. Spend the day relaxing in a private beach hut with perks like minted cooling spray, fruit kebabs, and sorbet, or unwind with en-suite yoga and meditations. The best part? Jade Mountain offers an onsite Chocolate Lab where a dedicated Chocolate Alchemist guides guests in making signature sweets to satisfy those cravings, or learn the art of healthy vegan cooking at the resort's organic, regenerative farm.
Set in the secluded countryside of South Iceland, Hotel Rangá is an elegant and rustic oasis ideal for babymooners wanting one more stress-free vacation before the baby's arrival. Couples can find serenity among the island's awe-inspiring landscapes and countless waterfalls, take maternity portraits along a beautiful black sand beach, or catch the greatest light show of all and see the famous Aurora Borealis (Northern Lights), given the hotel's countryside location providing darker skies and less artificial lights. Visitors can also stargaze alongside the hotel's resident astronomer at the property's high-tech, roll-off roof observatory (on nights when the Northern Lights might not make a visit). When it's time to unwind, stay in one of Hotel Ranga's themed suites from around the world — from Africa to Antarctica — cozy up with a book in one of the wood cabin-like corners, and nosh on seasonal Nordic fare at Restaurant Rangá.
Soon-to-be parents can escape to Marriott Puerto Vallarta Resort & Spa where a dreamy babymoon comes with high doses of relaxation and romance. This sprawling resort located on the Pacific coast offers a full 180-degree view of Banderas Bay from Puerto Vallarta's largest infinity pool, along with countless culinary options ranging from beachside dining to teppanyaki. Couples can opt for side-by-side massages at the Ohtli Spa, the largest in the destination, or expectant mothers can enjoy a unique experience with Janzu Rebirth Therapy, an ancient healing method similar to Tai Chi, which takes place in water. The therapy has a great effect on pregnant women, since it is said to reduce lower back pain and discomfort when sleeping. The technique consists of suspending the body on the surface of a warm pool of water and a series of soft rhythmic movements (similar to being in the womb) designed to relax the mind into a meditative state. From June to December, guests can also experience a celebration of new life through the resort's sea turtle protection program, which offers the opportunity to release newly-hatched turtles into the ocean.
Casa Palopò: Lake Atitlan, Guatemala
Perched on the hills that surround the spectacular Lake Atitlán — famous for its natural beauty, three mesmerizing volcanoes, and 12 colorful Mayan villages that dot its shores, each with its own personality and set of indigenous traditions — is Casa Palopò. This hidden gem is ideal for babymoon travelers seeking a destination that combines rich culture and luxurious hotel amenities. Moms-to-be can opt for a traditional Mayan shaman blessing for well wishes of a healthy pregnancy or indulge in a spa treatment in the comfort of their guest room overlooking the volcanoes. A picturesque infinity pool, delectable restaurant featuring local and international dishes, and activities ranging from kayaking and stand-up paddle-boarding to yoga and meditation round out this escape for expecting parents. Those looking to venture off-property and explore the destination can take a tour through the surrounding villages for a closer look at the local artisans that have created the unique textiles and artwork found throughout the property.
Regarded as one of the most romantic cities in the world, Charleston's intimate cobblestone allies and blooming gardens make it one of America's most popular destinations for babymooners. For expectant parents seeking a relaxing and luxurious Charleston-inspired babymoon experience, the Spectator Hotel in the city's Historic District offers a Baby on the Way package, which includes an in-room maternity pillow, rose petal turndown service, chocolate-covered strawberries, a handmade gift basket filled with locally sourced goodies, including a $50 gift card to local baby store Under The Almond Trees, a Goodnight Charleston book, and an assortment of "pregnancy craving" treats such as candy and a jar of pickles.
Over at Harbour View Inn, the Holy City's only waterfront hotel in the Historic District, experience luxury accommodations and romantic amenities with the Celebrate Romance Package, which includes a picturesque private carriage tour through downtown Charleston, a gourmet dinner for two, rose petal turndown service, artisanal breakfast room service, and more.
Before pushing out a new baby, get some extra energy with the vortexes in beautiful Sedona. Set among the towering red rocks of Boynton Canyon with direct access to more than 400 miles of scenic hiking trails, Enchantment Resort is a one-stop destination. The hotel offers tennis and a swimming pool with stunning views, plus an easy hike (perfect for sunrise) from the property to The Kachina Woman energy vortex. Enchantment Resort's Enchanted Babymoon package offers expectant couples a dedicated space to focus on their relationship and celebrate their new journey into parenthood. With daily breakfast, a $250 spa credit per person, a $200 dining credit, a guided labyrinth walk meditation, and a 60-minute babymoon blessing, the package has it all. The blessing is led by the property's mindfulness therapist to open your heart to perceive love and open your mind to release all that no longer serves you — the perfect way to welcome in a new baby.
Chable Yucatan offers a serene setting amid the Yucatan jungle where expecting parents can relax and recharge before their baby arrives. Fly into Merida International Airport and take a 30-minute drive to the remote property. Couples can strengthen their bond and commitment to one another with unique ceremonies and rituals led by Chable's spiritual leader in preparation for the new life they will soon welcome into the world. Soon-to-be mothers enjoy optimum relaxation with the Ixchel New Life massage, a prenatal massage inspired by the Mayan goddess of fertility designed to help alleviate discomfort and treat the needs of mom and baby during this special time.
With health being at the top of mind, Chable Yucatan's Ki'ol and Wellness restaurants are great options to add nourishment and enrichment to mother and child, keeping with the holistic approach of Chable Hotel's wellness and spa program. Located in the jungles of the Yucatan, the property draws on wellness principles but with an emphasis on Mayan traditions. Sign up for the Maya Ceremony with a master to feel even more spiritually connected to your baby. Other activities include on-property golf, gentle yoga, water pilates, and more with a focus on wellness and bringing you back to your breath and body. There's even a meditation with sounds of nature experience where natural instruments such as drums, seashells, and rattles are used to relax and harmonize to help you find physical and mental peace.
For parents going fully off-grid, indulge with three nights in the rainforest jungle setting of Origins Lodge in Costa Rica. The rooms here include private plunge pools, an outdoor fireplace, 800-thread count linens, a skylight, and more. The babymoon package includes three gourmet meals prepared daily by French chef Guillaume Boileve. Expecting couples will enjoy daily private pregnancy yoga, a private cooking class for two, and a hike to the waterfall. Package add-ons include a prenatal massage or the spa's newest wellness body treatment, Tii Cacao with cacao beans grown on-property.