The Best 2023 Honeymoon Destinations For Love, Laughter, & Happily Ever After
@andronissuites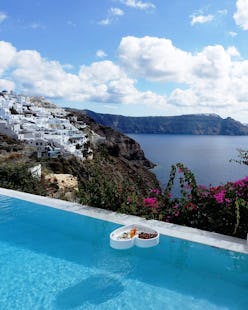 As T. S. Eliot once said, "Love is the greatest adventure." And for those of us lucky enough to find our better half, marriage is just the beginning of what great poets like Eliot often referred to as the adventure of a lifetime. After you've tied the knot with your special someone, finding the perfect honeymoon destination to suit your post-marital bliss needs is crucial in embarking on that new chapter with your special someone. As your love story continues, leave the stressful wedding planning behind and allow our team of expert travel agents weigh in on some of their tried and tested honeymoon destination recommendations for 2023.
Whether you only have enough PTO for a mini-moon or opt to explore multiple destinations over the span of a few weeks, saying "I Do" to the perfect location doesn't have to be such a big to-do. From thrill-seeking adventures to lackadaisical luxury retreats, these are the trending honeymoon destinations for love, laughter, and happily ever after.
Kauai, Hawaii
While Hawaii is no secret destination for honeymooners, Kauai is arguably the least visited island, and simultaneously one of the best-kept secrets for those wanting to escape the crowds of Waikiki and Maui. As the garden island grows in popularity, new luxury hotels have begun to spring up around the island including the recently opened 1 Hotel in Hanalei Bay. In addition to being sustainable, the hotel's architecture and ocean-facing rooms pay homage to the beauty of Kauai's North Shore with large windows that open to essentially remove the fourth wall for uninterrupted sweeping views of the ocean and towering mountains which are typically adorned with rainbows and cascading waterfalls after a rainy day. From there, the island awaits exploration with picturesque destinations such as the Na Pali Coast, Waimea Canyon State Park Hike, and Ke'e Beach at Haena State Park.
Rwanda
If spending all day sitting at the beach doesn't tickle your fancy, a holiday packed with trekking and adventure will. Every year, thousands of eager tourists flock to the heart of Africa to enjoy a safari at Akagera National Park, a canopy walk through the jungles of Nyungwe forest, and a trek through the infamous Volcanoes National Park to get up close and personal with endangered mountain gorillas. While being just inches away from a gorilla is every bit as exciting as you'd imagine, the real appeal of visiting this small country is interacting with the friendly locals who are equally as passionate about their wildlife as they are about welcoming new visitors.
Curacao
While Aruba is arguably the more well-known island of the ABC islands, Curacao is a nature lover's paradise with pristine national parks, the Caribbean's best diving and snorkeling, and tons of beautiful beaches. Surrounded by a rich mangrove forest, the Corendon Mangrove Beach Resort is the perfect all-inclusive retreat for those looking to relax on a private beach, have their fair share of restaurants, and modern ocean-view rooms. Just steps away from Willemstad and an exciting nightlife scene, this resort has a little bit of everything to offer honeymooners looking to get the best bang for their buck.
Gstaad, Switzerland
While Europe is always a good idea, Switzerland is especially picturesque for those who enjoy high-end hotels accompanied by the world's most majestic mountain region, The Alps. Whether you choose to visit during the winter or summer, skip the bigger cities and opt for quaint alpine villages like Gstaad, where a Swiss chalet at Le Grand Bellevue awaits to wine and dine you with Michelin-starred chefs, a 3,000 square meter spa, hiking trails galore, and world-class skiing. It's the perfect way to refresh and reset at this alpine reprieve.
Cabo San Lucas, Mexico
As an epicenter for culture, luxe hotels, and bustling nightlife scenes, Cabo is definitely the place to be for a little sun and fun. Just a stone's throw away from the U.S., the Baja Peninsula is easily accessible and ideal for those looking for some European flair without the eight-hour plane ride it entails. Packed with an impressive number of restaurants and hotels, the Me Cabo Hotel by Meliã is a few steps from downtown Cabo and bustling with lively restaurants, luxe accommodations, and bespoke wellness treatments at the spa, as well as the only swimmable beach in Los Cabo. It's the perfect base for exploring this small corner of the world and the several other charming pueblos, like Todos Los Santos, around it.
Turks & Caicos
With some of the bluest waters in the Caribbean, the coral islands (with Providenciales being the most popular) are the epitome of a barefoot luxury escape. Amassing numerous awards for world's best beach, Grace Bay Beach stands above the rest thanks to the island's stretch of shallow water, which gives the water that vibrant light blue hue. While the island is home to several luxury retreats and stays, there's truly no better place to stay than on Grace Bay. The Ritz Carlton Turks & Caicos is the best hotel on the bay with some of the best restaurants and luxe amenities on the island. From BLT Steak, Coralli's, and the poolside fresh coconuts, this Ritz is ideal for couples who want to relax while still being a part of all the action, wonder, and splendor of Turks and Caicos.
French Polynesia
"The Brando in French Polynesia is a very special hideaway on the private island of Tetiaroa and continues to amaze me with their significant commitment to conservation and sustainability," says Kristen Korey Pike, founder and CEO of KK Travels Worldwide. In this secluded paradise, the resort lives in harmony with nature, surrounded by coral reefs and cared for by the Polynesian people. Just a short ferry away from Tahiti, in the months of April through October, humpback whale watching and swimming is one of just a few ocean adventures to choose from when exploring this tropical paradise. A highlight for any ocean lover looking to celebrate their honeymoon — and future anniversary, too.
Iceland
If you're not afraid to get off the beaten path, Iceland is the perfect getaway for thrill seekers. Whether you plan to chase the northern lights in winter or trek through the sprawling greenery come summer, there's something adventurous to do in this beautiful country all year round. Of course, no visit to Iceland would be complete without a visit to the Blue Lagoon. The Retreat Hotel at the Blue Lagoon is a landmark of luxury in a landscape of mineral rich blue waters as this 62-suite boutique hotel provides the perfect wellness escape after long days spent exploring waterfalls, lava canyons, glaciers, and thermal pools of this small nation.
Aspen, Colorado
Ryan Corrigan, ASTA Luxury Travel Agent, says "I love Aspen any time of year because there is so much to do outdoors, combined with incredible dining and shopping experiences." Honeymooners should check into the St. Regis or The Gant Aspen for easy access to the slopes without having to compromise on service or luxury. Speaking of luxury, after picking up a custom cowboy hat from Kemo Sabe, Corrigan recommends grabbing a bite to eat at, "Casa Tua as the burrata salad with a glass of wine is perfection," followed by, "Hooch Craft Cocktail Bar for the best cocktails in town." If it gets too cold, you can always snuggle up to your better half for an extra touch of warmth.
Maldives
Just west of Sri Lanka, the beautiful atolls of the Maldives are tailor-made for newlyweds as luxury over-water villas and miles of aqua-blue water make for an idealistic tropical escape. Only a short ride from the capital city of Malé, the Waldorf Astoria Maldives Ithaafushi will arrange for the property's private yacht to scoop you up from the airport and whisk you away to your overwater bungalow or beachfront villa to enjoy your own private terrace and pool overlooking one of the world's best destination's for sunsets. The Soneva Fushi is another favorite which sits on a UNESCO Biosphere Reserve with sixty-four private island villas. Book one of the reserve villas for your own private water slide into the ocean. Pair that with seafood centric restaurants, world-class spas, and an endless array of water activities and you have the perfect honeymoon destination for the ocean-obsessed honeymoon vacation.
Santorini
Rich in history, culture, Mediterranean food, and warm-hued sunsets, nothing says romantic like the beautiful island of Santorini. Perched on a cliff, spending your honeymoon in the Greek Isles shacking up in a cave hotel, lounging by the infinity pool, and roaming through the local tavernas to feast on the fresh catch of the day is what exploring this destination is all about. Check into the honeymoon suite at the Andronis and indulge in the suite's indoor cave pool or opt for the private terrace jacuzzi — perfect for unparralled views of the volcano, the Aegean Sea, and that magical Santorini sunset.
Bali
Amid the vibrant paddy fields, temples, soft sandy beaches, and monkey-filled forests, the Balinese culture, spiritual presence, and laid-back way of life can be found throughout every aspect of this exotic island. With such verdant backdrops, newlyweds can relax at lush properties, such as Four Seasons Bali at Sayan and Mandapa, a Ritz-Carlton Reserve, and indulge in carefully curated wellness treatments catered to de-stress post-wedding planning with meditation, mindful movement, and, of course, massages.
Slovenia
If you're pining to go to Europe but don't love the expensive price tag that comes along with other popular destinations, Slovenia is for you. With a historical capital city, the Julian Alps, a wine region, and a beautiful alpine valley, this small, dynamic country has something for everyone. Once you arrive in Ljubljana, head south to Lake Bled and enjoy a day or two exploring idyllic castles as well as the Julian Alps before heading to the Soča Valley for some emerald blue river fun and an opportunity to experience the world-renowned Slovenian chef Ana Ros Michelin-starred restaurant, Hiša Franko. Next, you can explore the wine region that shares a border with Italy for some famous Slovenian Orange Wine. Your stomachs and your wallets will thank you, thanks to the country's affordable price point.
Australia
Naturally, no visit to Australia would be complete without a visit to Sydney for a quick pic of the Sydney Opera House followed by a swim at the infamous Bondi Beach. While these sights are certainly a must, there's so much more to explore in a country that's relatively the size of the US. After exploring the east coast for a few days, head over to Western Australia and touchdown in Perth. Once you've explored this budget-friendly city, discover Rottnest Island to meet photo-bombing quokkas, swim with whale sharks at Ningaloo Reef, or head to the Kimberley and North West for an Aboriginal, or should we say once-in-a-lifetime, experience.
Cape Town, South Africa
"I love to start my couples with some easy exploring of Cape Town," explains Corrigan. The vibrant colorful city is a hub for art and culture complete with an impressive restaurant and fine dining scene. Stay at the design-forward hotel The Silo or the luxurious One&Only Cape Town — which both provide impeccable service and serve as home base for exploring Cape Town's Table Mountain, penguin-filled beaches, safaris, shark cage diving, and wine region. "Stellenbosch is my personal favorite, think Napa Valley but with monkeys. Some of my favorite wineries are Spier, Delaire Graff Estate, and Mont Rochelle is a top pick for great wine and a place to stay," says Corrigan.
Yes, choosing the right destination for your once in a lifetime vacation can weigh heavily on the mind, however, the important thing to remember is that a honeymoon isn't about the destination — it's about the journey. "Love doesn't make the world go round; love is what makes the ride worthwhile," says Elizabeth Barrett Browning, an English Victorian Era Poet. Meaning, true romance doesn't comes from an overwater bungalow or a Swiss chalet but from the special memories you'll create with your special someone along the way. After all, what is life but one grand adventure.