Any Of These Cheap Things Could Make Your Home So Much Better
Easy ways to achieve a nicer, more efficient home.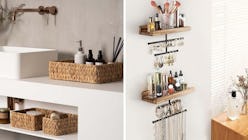 We may receive a portion of sales if you purchase a product through a link in this article.
Amazon is a treasure trove for day-to-day essentials, international beauty products, and — as any thrifty interior designer will tell you — home upgrades that will massively improve the way your home looks and functions. Whether you're working with a budget on your latest renovation or you simply can't resist a great deal, the site is absolutely brimming with clever home products — many of which have been hailed as "life changing" — that would cost a pretty penny elsewhere.
From chic decorative accents that only look expensive to clever organizing products that will make day-to-day life seem a little less chaotic, any of these cheap things could make your home so much better.
Keep scrolling to discover them all.