9 Things That Should Be In Every Host's Holiday Party Arsenal, According To Rachel Zoe
The celebrity stylist shares her festive Macy's finds for every kind of soirée.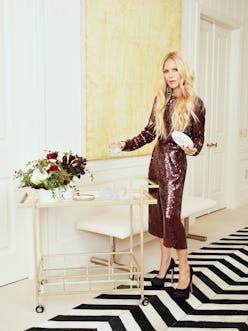 There's something magical in the air this time of year as we anticipate a holiday season reunited with friends and family. And it feels great to be able to actually invite our loved ones over — as in, in person. To help your next get-together go off without a hitch, celebrity stylist and TZR founder Rachel Zoe is sharing some of her favorite tips for hosting successful soirées.
"I love to host all throughout the year, but I especially love doing so during the holidays," says Zoe. "It's all about togetherness and giving people a reason to gather." What matters most to Zoe is having a room filled with her loved ones, so she's leveling up her hosting game with a few essentials from Macy's.
So what are the events on Zoe's calendar this holiday season? A cocktail hour for her closest friends, a baking party for her kids (plus their friends), and a Friendsgiving with Zoe's chosen family in Los Angeles. "My best advice is to make sure you have lots of food and laughter — you really can't go wrong with that. I love having children running around, music playing, and people mingling," says Zoe. Beyond that, a few head-turning decor pieces that marry style with function will make things extra bright and merry.
Turn Cocktail Hour Into A Dinner Party
If your friends are lingering beyond cocktail hour, then you know you're on the right track. To ensure it's a hit, Zoe recommends grabbing some stylish cocktail glasses, chilling the wine, and displaying it all on a lovely lucite tray. Then as everyone mingles, secretly order some takeout to arrive after an hour or two.
A Low-Key Baking Party Filled With Cheer
"My boys love baking year-round, but we go full out during the holidays. Skyler and Kaius will invite friends over to decorate gingerbread houses, and we always bake tons of cookies, too," says Zoe. If you're also entertaining the little ones, take a cue from her and grab some cookie cutters and kid-sized aprons for guests. And be sure to have a few platters at the ready to display everyone's hard work.
Make It A Friendsgiving To Remember
For Zoe, a busy schedule makes it tough to travel away for both Thanksgiving and the holidays. Instead, Thanksgiving turns into Friendsgiving right at home in Los Angeles. "We're so lucky to have so many wonderful friends in Los Angeles that we call our chosen family," she says. Whoever you're inviting over, a glimmering bar cart will set the mood for pre-dinner drinks, while gold-trimmed plates will make your table extra-festive. After dinner, card games get everyone involved in enjoying each other's company.