6 Easy-To-Execute Winter Citrus Recipes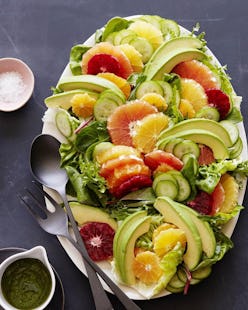 It's peak season for winter citrus, and that means everything from kumquats to cara cara navels are flooding the farmer's markets. What's more beautiful than the pop of deep red blood orange sections scattered on a salad or a pretty pink piece of grapefruit floating in a sparkling cocktail? Nothing, that's what. To help you stay healthy with a good dose of vitamin C and enjoy the best of this citrusy season, here are six super-easy recipes where citrus is the star of the show.
Sparkling Grapefruit Palomas
The only thing better than a sharp citrusy bite is a sharp citrusy sparkling cocktail. Just stir together ¾ cups each of freshly squeezed grapefruit juice, sparkling water and tequila, 3 tablespoons of fresh lime juice and a squeeze of agave, adjusting the sweetness to your liking. Garnish with grapefruit wedges and fresh thyme and you're good to go. Cheers!
Full recipe here.
Citrus Avocado Salad
This avocado salad with crunchy cucumber is elevated to a whole new delicious level when paired with a handful of bright citrus. To create this light dinner or easy lunch, remove the peel from the seasonal citrus of your choosing, slice in rounds, then throw in some avocado and cucumber slices before mixing up the colors and arranging on a lettuce bed.
Full recipe here.
Citrus Turmeric Rever-Upper Juice
This detoxifying, energy-boosting and delightfully citrusy and spicy drink is the perfect midday pick-me-up. Throw a variety of fresh citrus (sans peel), whole pieces of turmeric, a pinch of cayenne and ice into a blender for an antioxidant-packed smoothie in seconds.
Full recipe here.
Vanilla Chia Pudding With Blood Orange And Dark Chocolate
If chia pudding isn't your jam, it will be once it's topped with blood orange and shaved dark chocolate. Mix together milk, yogurt, chia seeds, honey and vanilla before covering and letting it sit in the fridge overnight. The next morning, assemble your chia seed pudding for breakfast by topping with chopped dark chocolate, toasted almonds, orange segments and blood orange syrup.
Full recipe here.
Winter Tabouleh Salad With Clementine Dressing
Take the super-tart clementine and use it to dress up a winter kale tabouleh salad. Start with chopped kale, add in some salt and olive oil, and then drizzle with clementine dressing—made by combining fresh clementine juice with apple cider vinegar, thyme, salt and pepper. Voila! Dinner is ready.
Full recipe here.
White Bean, Fennel And Lemon Soup
If you're looking for just a hint of winter citrus to brighten up a dish, this white bean soup recipe is the perfect way to enjoy its benefits. Simmer a can of white beans with 5 cups of water for 30 minutes with fennel, garlic and onion. Mix in a blender and finish with a hearty dash (or more) of lemon plus salt and pepper. This soup couldn't be any easier—or tastier!
Full recipe here.