5 Things We Desperately Hope Will Happen At Chanel's First Spa
ARMANDO GRILLO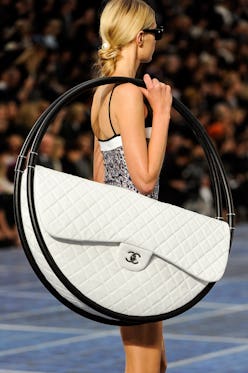 Good things come to those who wait. Since we've been patiently waiting for the first-ever Chanel-branded spa since, well, forever, we have had more than enough time to dream up what it would look like. The spa, set to open at the end of the year, is located inside the extensively renovated Hotel Ritz Paris, and will undoubtedly be the one of the world's most luxurious destinations complete with over-the-top amenities. Here's what we hope they will include.
Tweed Bath Robes
A take on the classic Chanel jacket, a tweed robe will put even the fluffiest of fluffy bathrobes to shame.
Chanel Sunglasses For Laser Treatments
Gone will be the days of plastic goggles when Chanel provides a selection of laser-safe sunglasses for those who purchase any light-based treatments.
Complementary Chanel Slippers
We can see them now: Crisp white bath slippers with the iconic Chanel logo embroidered right into them. And since it's our fantasy, we say you get to keep them.
Monogrammed Toiletry Bags
You're sure to pick up a few items after your treatment. In our perfect world, your purchase will be packaged in your personalized toiletry bag.
Chanel Pool Bags
Headed to the pool after your treatment? Borrow a Chanel bag to tote your essentials and take a perfect poolside bag spill Instagram.