48 Genius Things On Amazon Every Woman Needs
Amazon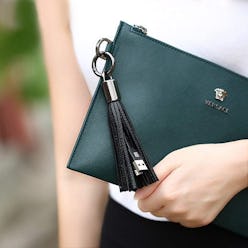 Sure, a quality umbrella, travel-sized steamer, or secure door locks might not be the type of exciting purchases that get your adrenaline pumping the way shopping for a new pair of shoes does. But these are the types of practical purchases that can have a significant impact on making your day-to-day life easier and more efficient. And of course, when it comes to buying these everyday necessities, there is no better place to look than the mecca of online shopping: Amazon.
Amazon is a treasure trove of genius products that are not only practical, but they often solve problems you didn't even know you had, too. From a discreet hair clip that doubles as screwdriver to fix your glasses on the go to a purse light that makes it easier to find those loose earrings floating around at the bottom of your bag, these brilliant items are bound to make your life a little easier.
And speaking of making your life easier: It probably goes without saying, but for Amazon Prime members, you can snag most of these items with free two-day shipping. So if you're ready to make a few practical upgrades to your day-to-day life, then keep clicking.