4 Incredibly Chic Last-Minute Summer Getaways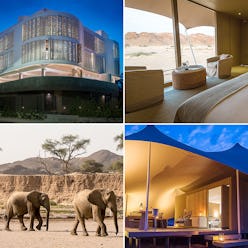 Are your friend's exotic vacation photos giving you a major case of Instagram FOMO? Yeah, us too. And yet, it's not too late to book a major vacation that's so glamorous and unexpected, you'll be the envy of all your followers. Here, four stylish hotels that'll help you unwind and indulge before summer is over. Book your favorite spot and then brush up on your Insta skills before you arrive for the ultimate social media win.
Get Out Of Town
El Blok, Isla De Vieques, Puerto Rico
One of the newest additions to the Caribbean, El Blok takes the concept of a design hotel to an entirely different level. Bright colors, artfully conceived spaces, and exposed concrete creates the perfect atmosphere to bask in the sun and enjoy the ocean views. The unique modern style also makes it the perfect atmosphere for you to showcase some of those colourful minimalist pieces in your wardrobe.
Hotel Sahrai, Fez, Morocco
Forget Casablanca, Fez is the perfect romantic Moroccan destination for your summer getaway thanks to newly opened hot spot, Hotel Sahrai. A stylish hybrid of vibrant Moroccan and elegant French design complete with breathtaking terraces, decadent fine dining spots, and even a Givenchy spa, Hotel Sahrai is the perfect place to do Morocco in style.
Mandarin Oriental, Bodrum, Turkey
One of the most trending new countries to visit for the avid traveler and fashion girl alike, Turkey's Mandarin Oriental combines ultimate luxury with the exotic style of seaside Bodrum. With breathtaking views and oceanside lounge areas, the Mandarin Oriental, Bodrum, is the perfect place to don your most stylish new swimsuit while sipping on a perfectly 'grammable, umbrella-clad cocktail beachside.
Hoanib Skeleton Coast Camp, Namibia
If you're looking for a bit of adventure but aren't exactly into roughing it, Namibia's newly launched Hoanib Skeleton Coast Camp is the most luxurious glamping trip imaginable. Enjoy private "tents" complete with large stylish en suite bedrooms, lounge areas, private decks, and swimming pools for the most fashionable safari imaginable.