Why I Think Social Media Ruined Contouring
AntonelloTrio/Imaxtree.com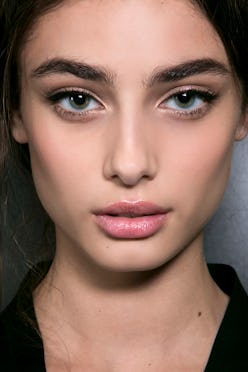 I'm sitting at my desk, scrolling through my Instagram feed, and up pops a girl holding a Louboutin to her face and a makeup brush in her other hand. I love a good 30-second makeup tutorial, but as I watch this one, I'm not inspired, nor am I amused. Beauty blogger Sadia Slayy proceeds to position her stiletto heel along both cheekbones, then down the bridge of her nose in an effort to get the perfect contour. Is this a joke? It has to be, right? I immediately forward a link to the girls in the office and one by one, the shrieks of horror begin to roll in. Okay, so it's not just me. If nobody wants to be the one to say it, I will. I think social media has turned the art of contouring into one big (not so funny) joke.
I can already feel the hate mail rolling in, but who can even argue the extremes that the beauty industry has seen lately? Yes, that's the same blogger using a wad of hundreds to guide her way to chiseled cheekbones. Let me just say to all the beauty bloggers and the YouTube community, I respect you as entrepreneurs and as artists. You have made use of social media platforms in a way that has brought inspiring makeup tutorials to the masses, which is fantastic. But there's a point at which things go a little too far (peep the banana above), and I think we've reached it. I realize that these micro lessons are meant to be interpreted in good fun, and many of you may be doing it to mock social media anyway. But to professionals in the makeup industry, it comes off as insulting.
Contouring Becomes A Thing
In case you assume it's a new Kardashian-patented concept, think again. It may surprise you that the technique was perfected in the 1930s, when makeup artist Max Factor became obsessed with creating symmetry on the faces of his Hollywood starlet clients. It sounds dramatic, but he was pretty much a genius comparable to Michelangelo—a true visionary. Remember when Nigel in The Devil Wears Prada said, "What they created was greater than art because you live your life in it?" The same concept applies here. What would the world look like without the Sistine Chapel? Where would the beauty industry be without contouring? You get the point. Fun fact: Max Factor is also the great grandfather of Dean and Davis Factor, founders of Smashbox Studios and Smashbox Cosmetics.
Then, years (and years) later, the drag community fully embraced contouring as a tool to create a more feminine face—on a more fabulous and over-the-top scale, of course. In 2009, the first season of RuPaul's Drag Race gave the world a deep behind-the-scenes look at the power of makeup transformation. But it wasn't until 2012, when Kim Kardashian tweeted before-and-after photos of her own tedious routine, that contouring as we know it today drew so much attention. Millions of editors, bloggers and impressionable teenagers became intrigued by the fact that everyone could create razor-sharp cheekbones with some strategic shading and highlighting. This is really when it became mainstream.
The Tipping Point
When Kim put contouring on the map, the responsible thing would have been for her to share a disclaimer—something like "proceed with caution" would've sufficed. It didn't take long for both girls and guys to post videos of themselves applying excessive amounts of foundation, concealer, highlighter, bronzer and setting powder. But scrolling through my Instagram feed became particularly painful when #ClownContouring hit in a big way. Was it not bad enough that the beauty community was already slightly abusing the technique? Seeing popular Instagram makeup gurus draw creepy clown motifs on their faces hurt me to my core. I tried to ignore it. I even held off on writing about it because I didn't want to add more fuel to the fire—that is until it got so popular that I had to acknowledge it. I told myself it would pass.
It still haunts my Instagram. As a beauty editor, it's my job to stay in the know, so it's not easy for me to just unfollow certain influencers or cut the clutter from my feed. #ClownContouring is still very much a thing—it's just dressed up in a slightly different costume. It has since evolved to people drawing hearts, stars and emojis, writing phrases and creating intricate patterns on their faces. Equally ridiculous, but much less creepy.
It Gets Weird
Once the shading and highlighting went beyond cheekbones, things really began to get out of hand. It started with the décolletage and cleavage, then came the abs. Who wouldn't love to look more toned in a bikini? I've certainly highlighted my collarbone before, but the flurry of bronzed six-packs seemed unnecessary. Things got real when a video surfaced of a girl contouring the back of her neck. Convinced it can't get any worse? Enter foot contouring. No, I'm not kidding (proof below), and yes I want to barf. We've seen it all, or at least I hope so.
The Good News
And to think all of this began with a genius makeup artist who studied the faces of Ava Gardner, Jean Harlow and Marlene Dietrich, then used makeup to define their assets and correct imperfections employing the theory of shade and light. A refreshing benefit of the contouring craze is the trickle-up effect it's had on the cosmetics industry. Brands have responded to the intense interest by offering more contouring palettes, which we'll never complain about. Online retailers like Sephora, Nordstrom and Net-a-Porter even include contouring as its own product category.
Taking The High Road
Listen, I'm all for makeup hacks that make my life easier—I've even used tape to get a great cat-eye. And providing beauty lovers with accessible takes on complex makeup techniques is fantastic. After all, it's something I strive for every day in my own career. I encourage every person to experiment with makeup, especially if it boosts your self-esteem and gives you the confidence to take on the world. To the YouTube vloggers and Instagram beauty gurus: Makeup is an art and many of you are truly amazing artists. That said, let your skills do the talking. I get that makeup is supposed to be fun, and who am I to tell you that you can't put a shoe on your face? I just have to wonder, at what point does it become ridicule? You don't need to hold Louboutins, a stack of hundred-dollar bills, a kitchen knife or a banana to your face in order to make it as a social-media star. While this isn't an attack on you, social media or the beauty industry, here's hoping we can continue to celebrate the artistry of makeup without making a mockery of it.