The Smart Styling Trick Kate Middleton And Princess Charlotte Both Use
WireImage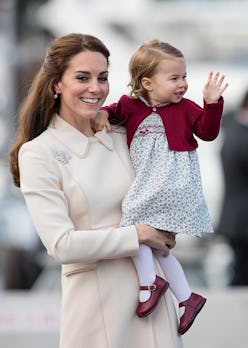 We'll preface this with the acknowledgement that Kate dresses Charlotte, so it's not surprising they're both often seen using this styling trick, but it's rare for a trend to suit both a child and an adult who spends most of her life greeting royalty.
Princess Charlotte, as is traditional for young royals, is often seen wearing a blouse or dress with a Peter Pan collar peeking out over her coat, sweater or cardigan.
Now we've noticed Kate stepping out with a Peter Pan collar over the neckline of her collarless coat—which is important mainly because most of us struggle with what to wear with a collarless neckline. A crew neck is too high, a regular collared shirt looks messy and a chunky knit just makes it look like our neck is too small for our body. So thank you, Kate and Charlotte, for this obvious and regal solution. Shop a few of our favorites here.