The Hair Accessory All The It Girls Will Be Wearing This Spring
Edward Berthelot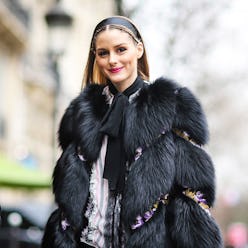 As we get a little older, experimenting with our hair can get tricky—especially when it comes to accessories. But Emma Watson recently proved that headbands are possible well into your 20s, and now another dainty detail is making its way into the spotlight. Model and actress Emily Ratajkowski attended the Valentino show at Paris Fashion Week wearing a loose side braid, and we couldn't help but notice that the style came together with a small black ribbon tying the loose ends at the bottom. Olivia Palermo was also spotted in Paris wearing a wide black ribbon as a headband, accompanied by two small braids.
Sienna Miller and Sophia Bush wore similar looks featuring hair ribbons throughout awards season, and others including Karlie Kloss have also tried the trend. Want a little update for spring? Rather than traditional elastics, tie some minimalist grosgrain or satin into your 'do for a fresh take.
Olivia Palermo
To complement her wide headband, Olivia wore two dainty braids up front to keep flyaway hairs at bay.
Emily Ratajkowski
Emily Ratajkowski also tested the bow trend by tying up the loose ends of her braid with black ribbon.
Sophia Bush
Rather than sticking to a traditional hair elastic, Sophia paired her California beach waves with a black ribbon.
Olivia Culpo
To stray from the traditional rendition of the sleek ponytail, Olivia wrapped hers with a velvet strand.
Karlie Kloss
Karlie tied her ribbon into a bow to wear it as a headband, sweeping back her lifted waves.