The 15 Memes That Made 2016 Bearable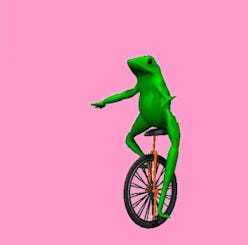 Memes are a reason to live. They are, as one might rightly say, "our only salvation from the horror of existence." You don't need us to tell you this year was a dumpster fire. You can probably name more troubling things that happened in 2016 than funny and clever ones.
But fear not, the memes of 2016 were true gifts. Weird voices shouting about Vans, two instances of pettiness, and more frogs than you thought necessary filled our social media feeds daily. Memes, after all, get your message across better and with a sense of wit. The following are the year's best memes that got us by and, more importantly, made us laugh in a time that seemed to have no room for laughter. May the new year be a meme-orable one.
For all 15 amazing memes, check out the full article on Nylon.
Damn, Daniel!
Josh Holz and Daniel Lara became viral sensations earlier in 2016 after a video of Holz approaching Lara and complimenting his white Vans was uploaded to the internet. On paper, that doesn't sound too viral-worthy, but Holz pitches his voice, so it's a little off-putting which makes Damn, Daniel so catchy. What's more, it's a positive meme and doesn't seek to do anything but uplift.
Dat Boi!
Here come dat boi, the unicycle-riding CG frog that is absolutely absurd. Yes, it's heartwarming at the same time. O shit waddup!
Math Lady / Confused Lady
Chances are you've seen this meme or some variation of it before, but don't know its origin. It's from Senhora do Destino, a telenovela, and shows Renata Sorrah playing Nazaré Tedesco. It's dramatic and appropriately captures the feeling of being confused.
D.W. + Arthur Read
This year, Arthur was defiled and turned into PG-13 life scenarios on Twitter and Tumblr. Screenshots of D.W.'s and Arthur's fists dominated, but really, any Arthur image was suffice.
Evil Kermit
The final weeks of 2016 saw the emergence of one of the best memes to ever make its way to our feeds. It shows Kermit The Frog confronting his Sith Lord lookalike from 2014's Muppets Most Wanted. It's simple: Kermit represents your good side, and Evil Kermit represents your pettiness. Go through a bunch of these, and you'll be nodding right along saying, "If this ain't me!"
For all 15 memes, check out the full article on Nylon.