Go Inside The Party We Threw With The Outnet At Miami's Art Basel
Sam Deitch/BFA.com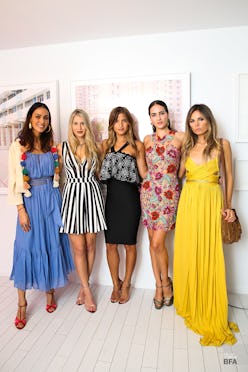 On a balmy afternoon in Miami's South Beach we threw a party for our friends who were in town for Art Basel. Over cocktails and light bites in a poolside bungalow, guests browsed art curated by Tappan Collective then DJ Thomas Jack took to the turntables and a dance party ensued. And thanks to our co-hosts—the Outnet and a few of our favorite It girls—there was no shortage of stylish ensembles. Go inside the party here.
Co-hosts Jenny Lopez, Sophia Macks, Rocky Barnes, Daniela Botero and Erica Pelosini.
Co-President of The Outnet, Andres Sosa, with co-host and founder of Tappan Collective, Chelsea Neman Nassib.
Browsing the art curated by Tappan Collective.
Co-host Rocky Barnes.
Guests by the pool.
Co-host Erica Pelosini.
Style Rac's Regina Cauff and Iman Hasan with The Outnet's Brooke German.
Co-host Daniela Botero.
DJ Thomas Jack.
Co-host Jenny Lopez.
Co-host Danielle Bernstein.
Co-host Shea Marie.
DJ Sam Blacky.
Co-host Caroline Vreeland.