Winter Wardrobe Must: Neutral Staples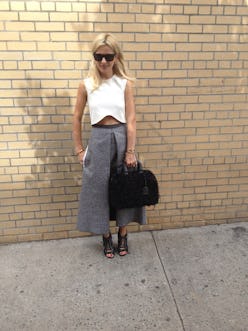 We love a slimming all-black outfit as much as the next girl, but this season we're choosing to stand out from the crowd with a winter wardrobe filled with pieces in soft ivories, powdery blues and cameo pinks. Here Shopbop's Fashion Director, Elle Strauss, shares her picks for nailing this winter's neutral trend.
Photo: Getty Images
Stark White
"Winter whites are everywhere, and there's nothing better to brighten up your dark winter clothes than crisp, white denim. Paired with a loafer and chunky sweater, you'll look cozy but refreshed."
Shades of Grey
"A slouchy grey knit is essential and keeps your look effortlessly cool, as if you snagged a gem from your (well-dressed) bf's closet. Make it your own by tossing it over a collared button-up and push up the sleeves, leaving a hint of the shirt's cuffs peeking out."
Shell Pink
"Trade in your trusty work trousers for a pair in a sweet pastel color—like this amazing option from Dion Lee. They lighten up your look while keeping it professional."
Cream of the Crop
"There's nothing more classic and dreamy than a white fisherman's sweater. Extra style points if you pair it with your white denim for a casual head-to-toe monochromatic outfit. I always think about Cameron Diaz in the movie The Holiday—she's a vision in head-to-toe white from beginning to end!"
Classic Camel
"There's never been a time when a classic camel coat has not been fashionable. Look like a fabulous French editor, while still staying warm. You'll be the chicest person on the street."
Bright White
"This is the perfect layering piece. Whether it's under a sweater, dress or even a blazer, this may be the single item in your wardrobe that matches everything and is always appropriate regardless of the occasion."
Oatmeal Dust
"Wide, long scarves were everywhere on the runways and for good reason. Wrapped repeatedly, they are the easiest way to bring dimension to simple outerwear. Plus, they protect you from harsh winter wind."
Heather Grey
"When it's cold outside there's nothing better than wearing a pair of cozy leisure pants. This doesn't mean you have to succumb to venturing out in sloppy sweats or pajamas. A pair of 10 Crosby light cashmere track pants, paired with a Henley, tailored jacket and Converse says 'I can enjoy my comfort while still being stylish.'"
Taupe Toes
"Ditch your dowdy boots for these Vince sneakers. They're a casual, easy alternative for trekking through the city and add an unexpected twist to any outfit."
Powder-Blue Topper
"If you're going to buy a new coat this year, make sure it's in the season's favorite shade of heavenly blue. This Tibi moto combines a downtown silhouette with a soft hue, resulting in feminine, head-turning statement."