Launching Today: WilliamVintage's Shopping Site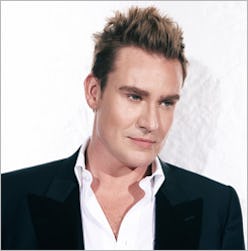 You're no doubt aware of Rachel's devotion to all things designer vintage. Now, you too can access her most esteemed vintage source, WilliamVintage, which just expanded from a by-appointment boutique to a glamorous, at-your-fingertips e-shop! The store's founder (and Rachel's dear friend), "King of Vintage" William Banks-Blaney, takes us through a tour of his most cherished pieces today.
Click through to discover (and shop!) William's favorite designer vintage pieces!
Madame Gres Haute Couture Dress, c1972
"A spectacular dress by a design legend and Chanel's arch rival, it's a perfect example of Parisian haute couture and a dress that can be worn in many ways. Wear for a black tie or red carpet event with its clean lines, bold punch of color and daringly high side-slit and it will stand out in its elegant simplicity or wear it with a pair of espadrilles for a garden party in Southampton to have the last word in chic."
Thierry Mugler Gown, c1988
"Thierry Mugler defined the 80s and 90s but his inspiration was often old Hollywood. With a fantastic silhouette, the dress looks back to the glory days of the late 1940s and 1950s and has such a Rachel vibe for a red carpet moment….a block color and bold silhouette and while showcasing the body, it doesn't put too much on display….confident, strong, bold and with a huge blast of the golden age of Hollywood."
Oscar de la Renta Dress, c1968
"I am obsessed by late 1960s Oscar de la Renta and it's an obsession I share with Rachel. No one was able to unify fabrics, metallics and patterns in such a joyous clash as Oscar and this dress is one of the best…deep amethyst and jade shot through with gold metallic and a clash of pattern it's a super-confident, luxurious piece of vintage that I could see Rachel wear any day of the week."
Madame Gres Cape, c1970
"I have a soft spot for capes and so do my clients…easy to wear, endlessly chic and rather like having your own comfort blanket, a cape is a must for every wardrobe and looks at its best over great jeans and a cashmere sweater. This cape, by the legendary Madame Gres, is asymmetric and reveals just enough of the arms and legs to tantalise yet also provide cover and warmth."
Yves Saint Laurent Silk Shirt, c1978
"Yves Saint Laurent was the design genius of the 20th century and his work from the early days at Dior in the 1950s and for the next 50 years, shaped every woman's wardrobe. His silk shirts are the last word in style and while still made today, those from the 1970s have that little extra 'ooomph' that always sets them apart. I have lost count of how many I have found for Rachel and they are the perfect 'go-to' piece for the office, dinner or worn with a great pair of jeans."
Pierre Cardin Haute Couture Cocktail Dress, c1967
"Discovered in Paris, this glorious Cardin haute couture cocktail dress is so timeless; modern, wearable, beautifully cut and a great 'stealth' LBD you can put with a gladiator sandal or a pair of vertiginous heels. It's a very Rachel piece in its simplicity, asymmetry and that it's the perfect foil for major accessorizing, whether with arm candy or killer shoes."