Why Markarian Is The Romantic Fashion Brand To Keep An Eye On
Courtesy Markarian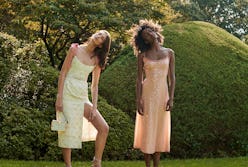 "My grandmother was a seamstress and taught me how to sew when I was 10 years old," says Alexandra O'Neill, founder of Markarian. "I've been making my own clothing ever since." O'Neill founded the fashion line in 2017, honing in on dreamy designs that range from wrap dresses trimmed with dainty feathers to more casual belted frocks that strike the balance between effortless and put-together. At its core, Markarian is a fashion brand with the modern NYC it-girl in mind.
Like so many brand inception stories, Markarian was born out of necessity. O'Neill began to plant the seeds for the brand — which soft-launched for spring 2018 — after struggling to find a dress to wear to her sister's wedding. O'Neill started her first line with her sister at 19. "It was a small contemporary brand," she explains. "Obviously, what you're making at 19 is very different than what you're making and wearing as a 32-year-old." From the first spurt of inspiration, O'Neill expanded her Markarian collection into a range of elegant gowns, dresses, and separates. "Markarian appeals to women who are looking for something well-made and classic while still having that playful edge," O'Neill says. "At the end of the day I want my pieces to be wearable and something that you don't have to think about too much."
If there are two words to encapsulate the Markarian aesthetic, they'd be "playful" and "dramatic." It's a combination at opposition, but also complementary: Each piece feels like it's for a special occasion, and if that happens to be a night at the ballet or looking fabulous while running errands is entirely up to the wearer. While the designs feel delicate and elegant, they never take themselves too seriously.
Although she grew up in rural Colorado, O'Neill's attachment to New York is tangible; it's both where she lives and produces her line. She's worked with the same family-run factory since before Markarian was born. "Everything I make right now is made-to-order so it makes the most sense to do it locally. I'm in the factory every single day checking on things," she says. "I'm so lucky with the factory owner because she's meticulous and everything is always perfectly done." And while she's busy running the business, she still finds time to get back to her original passion. "I've always liked hand sewing more," she notes. "Even now I'll finish a lot of my pieces by hand."
Though produced in (and inspired by) New York City, O'Neill approaches design and production with a global perspective. Many of her fabrics are sourced from Italy and France and some of the beadwork and embroidery of her pieces is done in India. The international influence also comes through in O'Neill's design inspiration — in the case of this past season, it came from England. She describes her SS19 collection as Jane Austen meets Laura Ashley.
"What girl doesn't love a Jane Austen book? Or an adapted movie," she says, citing Emma and Sense and Sensibility as her favorites from the work of the 18th century British novelist. The pieces in this collection are romantic and ethereal, evoking the magic of a past era of dressing, minus the uncomfortable corsets. And shoppers across the pond seem to be on board, since next month she'll be selling with Selfridges department stores, headquartered in London (in addition to Moda Operandi and her own e-commerce site in the U.S.).
Rather than host a large-scale runway show or presentation during New York Fashion Week this past September, O'Neill eschewed tradition, holding an intimate buyers-only gathering, "[For] the event I did for fashion week, which Moda [Operandi] kindly hosted, we didn't have any press there and we didn't have photographers. It was all through social media, and it allows a buzz to be created. I liked that it was low-key rather than it being a big, formal presentation." Celebrities including Alison Brie, Kerry Washington, and Katherine Langford have all worn Markarian, adding to the "buzz" that O'Neill speaks of. "I think social media can be a really powerful thing," she says. "If you use it carefully."
To be a young designer, especially in a city like New York can be a challenge, and rather than seeking advice from a single mentor, O'Neill has a tribe of people she can bounce ideas off of and gather wisdom from. "I have a strong network, which is lucky, and I pick up advice wherever I can, even from somebody who's not in the fashion world or from someone I admire who has started their own business," she says. And the best piece she's gotten so far? "To have a specific point of view and offer something different." Between the success of her distinctive line and the continued excitement building around her brand, O'Neill has clearly taken that guidance to heart — and it's paying off. Shop pieces from Markarian below.