5 Wardrobe Essentials That Always Sell Out
by Sarah Easley and Beth Buccini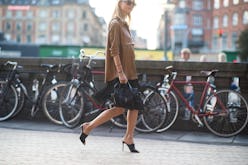 When it comes to updating your wardrobe, Sarah Easley and Beth Buccini of NYC's must-visit stop Kirna Zabete know a thing or two about the most practical pieces to invest in this season. From a classic satchel you'll use (and love) forever to a cult-favorite style of denim you'll literally live in on the weekends, shop the 5 essentials that Sarah and Beth can't seem to keep in stock. Trust us; you won't be surprised once you check them out for yourself.
Get 'Em While They're Hot
Shop 5 items that always sell out on Kirna Zabete, and why founders Sarah Easley and Beth Buccini love them. Photo: Adam Katz Sinding
1. Mother Slouchy Boyfriend Jean
"Our customers cannot get enough of Mother's magic boyfriend jeans. They really work on everyone. This is our fourth re-order, we literally can't keep them in stock!"
2. Veronica Beard Upstate Dickey Jacket
"Veronica Beard's Upstate Dickey Jacket is the best solution to an outfit setback. Consider it the perfect piece to complete your fall uniform."
3. Maison Michele Andre Trilby Hat
"Maison Michel's Andre Trilby is the best fedora out there. As a result of the style's newly updated color combos, our girls are buying them in bulk."
4. Givenchy Antigona Medium Satchel
"Meet another top seller: Givenchy's understated and functional luxury bag. A handbag is always the first fall purchase worth splurging on--talk about immediate gratification."
5. Tabitha Simmons Belfy Flats
"The perfect pair of pointed-toe shoes in a sea of Birks... It's so refreshing to look down at a chic flat again."