TikTok Is Freaking Out Over This Tory Burch Dress — Here Are 9 Like It
Be the belle of the ball.
@hannnnahsmiiiith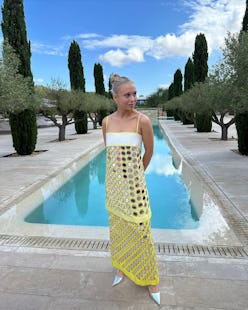 We may receive a portion of sales if you purchase a product through a link in this article.
This year marks two decades since How to Lose A Guy In 10 Days first premiered and fans of the movie will most certainly remember the hilarious, romantic love story between Andie Anderson (Kate Hudson) and Benjamin Barry (Matthew McConaughey). Even more memorable than their kooky relationship, however, was the scene where Andie wore a silky yellow gown to Ben's company party. The hold this look had over everyone in 2003 was unreal. Since then, no similar pieces have captivated us quite like this — that is, until a certain Tory Burch yellow dress went viral on TikTok this month.
If you're feeling puzzled right now, let me explain: I was scrolling though my TikTok feed a few days ago when a video from creator @mafaldapatricio came up on my FYP. I was immediately mesmerized by her full look — so much so, in fact, that I went straight to Tory Burch's website to find the exact style she wore. The Layered Hand-Done Mirrorwork Silk Dress comes from the label's Spring/Summer 2023 collection, and it is indeed beautiful. As I was looking at the item online, I thought: I can't be the only one obsessed with this look, right?
A quick peek at the video's comment sections confirmed my social editor suspicions — other members of fashiontok were equally as obsessed with the number. One commenter wrote, "Sharon Tate would've LOVED this" (hard agree), another said, "You look like you transported from the the ladies room of a 1970s Miami club, in the best way ever." Even Benjamin Moore (yes, the paint brand) shared their feelings with a quip: "She is the moment."
As I continued to scroll, I came across creator @elirallo's stitch of the original video, and I knew I had struck gold with this Tory Burch style. As much as I love a simple summer dress, I was too excited about this viral win for the maximalist community. If you're now feeling invested in the look, too, you can shop the exact dress ahead. Additionally, for those who want to explore more yellow frocks for summertime soirées, whether it be as a wedding guest look or a rooftop party outfit, there are a plethora of cheerful options online.
Ahead, see the Tory Burch style that started it all and shop nine of our favorite alternatives.