How To Shop Vintage: Summer Party Dresses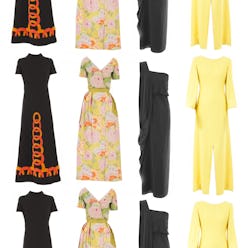 In his new column, William Banks-Blaney, owner of vintage destination WilliamVintage, shares his tips and advice on how modern girls can pull off retro clothes in their everyday lives.
"Summer is here and with it comes a style challenge for even the most experienced clothes lover. The season of pool parties, music festivals, long weekends and vacations may sound like heaven but it can be difficult to navigate when temperatures soar and you cannot show your impeccable sartorial skills through the artful layering of coat, sweater or separates. This is the time when vintage becomes your savior. Here, three essential statement buys for your wardrobe, whether your summer paradise is a friend's pool, a tropical jungle or the urban jungle."
Get William's Picks
The Black City Dress
"If you prefer being in the shade of a skyscraper rather than a palm tree, summer does not mean you have to abandon your beloved black. Whether donning a '60s Yves Saint Laurent shorts suit for a lazy lunch, working a '70s Halston silk dress for a major summer event, turning heads in a transparent '70s Dior shirt or bringing in a neon orange accent with a spectacular '60s Louis Feraud maxi, black can be your greatest ally for jet set style. Channel your inner Edie Sedgwick and don your shades!"
The Color Block Maxi
"If the idea of prints and patterns terrifies you, take it back to basics and embrace colour-blocking like never before because nothing says summer chic like a fabulous maxi dress. Whether clashing it with neons or enhancing it with metallics, a great colour-blocked maxi can take you from a shady lunch to drinks on the beach and on to a major black tie all by just changing out your accessories."
The Floral Dress
"Everything else is in bloom, so why shouldn't you be? Wearing a floral doesn't have to be just 'pretty' and there is a vast selection of prints for everyone. Pair your favorite white tee with a knockout Irene Galitzine silk skirt, sip margaritas by the pool in a kimono-sleeved Montgomery Ward or arrive at a friend's summer garden party in a ravishing one-shoulder silhouette…florals can be your friend and a unique way of working your jet set style with aplomb!"