The Ultimate Investment Piece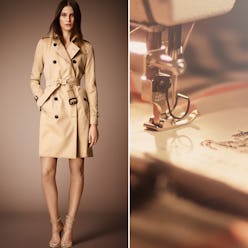 There is perhaps no more iconic item of clothing than the Burberry trench coat. The internationally beloved staple piece has graced the closets of royalty, actors and artists for more than 100 years. In honor of this legacy, the brand created its Heritage collection, consisting of archival silhouettes and colors—all rendered in the famous rainproof garbadine invented by Thomas Burberry in 1879. Read on to find out all about these truly timeless classics. Then pray for rain.
Lunch Meeting
The classic Westminster cut features a figure-flattering tapered waist and narrow sleeves which is ideal for lunch in Beverly Hills followed by a quick shopping trip. Might we suggest Burberry's new Rodeo Drive store?
Little Known Fact: Burberry's signature check lining dates back to 1920.
Date Night
Step out for your next West Hollywood date night in coordinated Westminster styles. All Burberry trenches feature a traditional storm flap across the shoulders, ensuring rain doesn't roll down the back.
Little Known Fact: The coats were originally designed for the British military. The epaulettes denoted an officer's rank and remain a stylistic detail.
Outing With The Little One
For a trip to the Brentwood Country Mart why not put your little one in a fitted-waist Sandringham trench coat that matches yours? The children's coat boasts the same belt and cuff straps as the adult version.
Little Known Fact: The back pleat was originally put in place 100 years ago to facilitate horseback riding.
Cocktails
The short Kensington style segues from the office to cocktails in Silverlake with the addition of a bold metallic Bloomsbury bag.
Little Known Fact: It takes a year of training to learn how to stitch the curved collar, the most intricate part of the trench's construction.
Dinner
Meeting friends for dinner in Santa Monica? Opt for the black version of the ultra-flattering Westminster trench coat.
Little Known Fact: The cotton garbadine is cross-woven, ensuring it is breathable yet waterproof.