TZR's EIC Works Summer's Best Trends Into Her Capsule Wardrobe
From desert-inspired neutrals to bold tropical prints, step into summer in style.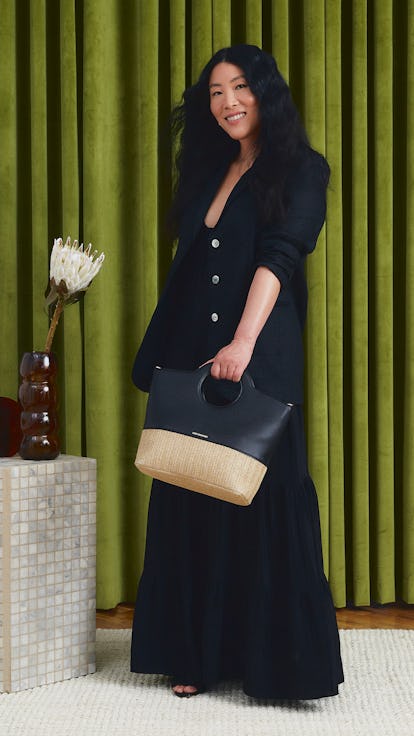 If you've never experienced the bliss of a capsule wardrobe, you're in for a treat. Integrating a few carefully curated, stylish items into your existing rotation each season solves the "full closet but nothing to wear" panic, and actually loving the items you have is so much better. Macy's makes it easy to land a capsule wardrobe that also lets you play with fun, seasonal pieces — all while dressing like you. Establish your staples, then mix in buzzy trends, like this summer's island breeze vibes (think tropical prints, matching sets, and vibrant colors) and desert oasis looks (earthy, summery fabrics like linen, crocheted pieces, natural tones).
Creating a balanced summer capsule is best with a guide, and there's no one better than TZR's Editor-in-Chief, Kathy Lee. She's a master of switching up her look for the season. "My summer style tends to be noticeably different than my winter one, which leans more minimal," Lee says. "For summer, I opt for the opposite with bold colors and prints, and airy, flowy silhouettes." That's not to say her summer self is totally unrecognizable, though: Lee returns to the tailored styles she knows she loves, just with some weather-related tweaks. "I still stick with menswear-like blazers and high-waisted trousers for work," she explains, "but lighter versions in fabrics like linen."
Ready to get inspired? Ahead, Lee shows off four chic looks she'll be rotating this summer.
It's A Match
Matching sets are a capsule must: Wear them together and friends will wonder when you added a celebrity stylist to your speed-dial; separate them and increase your outfit options by a multitude. For Lee, the staple makes hectic mornings easier (a major plus when you're, you know, running an entire website). "I'm a big fan of matching sets this season, next season, and beyond," she says. To play up the desert oasis trend while staying true to her menswear-loving roots, Lee wears this sand-toned Bar III wrap top with a coordinating trouser, topping it off with a minimalist black blazer and natural woven platforms.
The New LBD
In the summer, linen is a breathable yet protective powerhouse. "I appreciate linen even more now, as sun protection has become a major priority for me," Lee says. "Instead of always wearing skin-baring clothes when the heat is unbearable, I now opt for linen to cover my skin, as it also allows for ventilation." Enter: This oversized Nicole Miller linen blazer. Another capsule essential? The new LBD (long black dress). Block heels finish the look, which feels ideal for shopping with friends, or sipping spritzes al fresco on your favorite rooftop.
A Touch of the Tropics
'Capsule' doesn't have to be synonymous with 'uniform.' "You don't have to wear all the pieces at once," Lee advises. "Choose one piece from the capsule wardrobe and go from there." For this look, she's repeating the black DKNY blazer you'll recognize from atop her matching khaki set — but breathing totally new life into it by pairing it with a printed dress to play up the island breeze trend. Says Lee, "Incorporate a new piece into an outfit you tend to repeat because most likely, you like the combination of those pieces, and it could use a refresh for the new season."
Sand & Sky
Remember those killer wide-legged trousers from Lee's matching set? This time, they're paired with a pop of airy blue via a poplin button-up. Lee's woven bag adds a little texture to the look, and with its ability to double as a crossbody, it allows for plenty of versatility. Wear with the top handle one day and switch to crossbody the next  — without needing to move all your essentials to a new bag.
Any of these looks feel worthy of Lee's dream summer day, which, by the way, would take place "on a beach in Sardinia, Italy, heading out for a long swim to another island and back," says Lee. "Thereafter, I would rest on the glistening quartz sand and enjoy the beautiful view of the sea." Did you just pull up a list of flight options? Same. And now we know just what to pack in that vacation capsule.
Photographer: Colette Aboussouan; Creative Director: Jill Sabato; Wardrobe Stylist: Ian Bradley; Branded Fashion Lead: Elly Ayres; Designer: Emma Muro; Makeup Artist: Tiffany Patton; Hair Stylist: Yoichi Tomazawa; Production Managers: Nancy Valev & Lauren Schweitzer