TZR EIC Kathy Lee's Fall Fashion Report
The editor-in-chief shares the three Parisian-inspired trends you'll want to test out this season.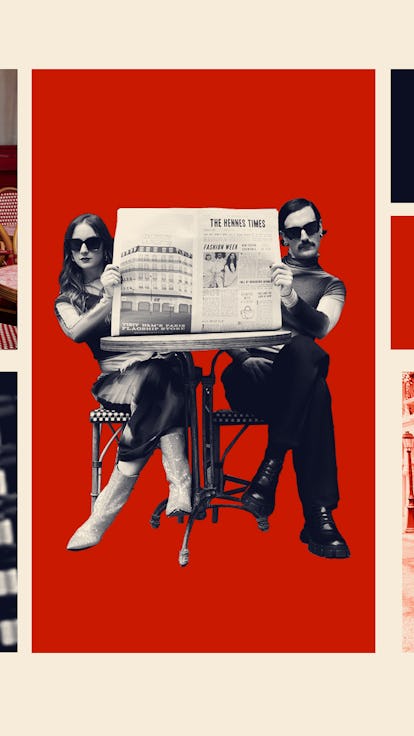 Paris is famous for its sense of style. Take a stroll through the city at any time of year and you'll be surrounded by everyone from trend-setting street style stars to effortlessly chic grandmas with top-tier taste. It's no wonder that Kathy Lee, The Zoe Report's editor-in-chief, has found fall wardrobe inspiration on the cobblestone streets of the French capital. Tapping into the perfection that is Parisian street style, Lee has her eye on three distinct trends that incorporate everything from surprise sequins to prep.
To help realize these looks, Lee is turning to H&M's fall/winter collection as the ultimate mood board. In this new campaign, H&M invites us to Brasserie Hennes, an ultra-stylish imaginary cafe where all of the season's to-die-for trends come to life. Take a seat, stay a while, and immerse yourself in these can't-miss styles for fall, curated by Kathy Lee.
Liquid Metal
Rich metallics and dramatic sequins are typically associated with the holidays, but Lee is all about breaking the rules. "I'm not waiting for the holidays to bring out the sparkles — I plan to shine this fall by pairing this glitzy trend with everyday staples like cozy crewneck sweaters or turtleneck bodysuits," Lee says. "It'll surely cure the post-summer blues when the temperatures drop."
Technicolor Flight
Even though the sun might be going down earlier, fall dressing doesn't have to be dark. Lee predicts bright outerwear with an aeronautical nod: "This colorful spin on autumn knits, technical jackets, and aviator-inspired accessories will be the look dominating the streets this season. Its ease and loose silhouettes make it a comforting aesthetic to take on."
Sporty Prep
The prep falling in love with the jock isn't just a teen movie trope — it also makes for great fall fashion inspo. "Two everyday-inspired trends combined into one, the sporty prep look merges the quirky librarian with the all-star athlete, all with a nod to the '70s," Lee says. "I love the layering of contrasting pieces like a team shirt with a grandpa cardigan, especially in fun, bold colors."