Balenciaga Appoints Vêtements' Demna Gvasalia As New Artistic Director, Here's Why
2015 Adam Katz Sinding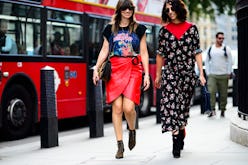 Zoe Kravitz has barely changed out of her runway look from Alexander Wang's final show at Balenciaga and the storied brand has already announced the appointment of Vetements' designer Demna Gvasalia as their new Artistic Director. Despite being a surprise—many speculators assumed they would promote from within or poach a well-established designer—the choice makes sense. Firstly, in the three short seasons of his brand Vêtements, the up-and-coming designer has burst onto the scene with the same caliber of directional, downtown cool-kid style associated with Alexander Wang in his early career. Secondly, industry insiders (not to mention celebrities like Kanye West, Rihanna and Jared Leto) have lauded his ability to push the boundaries of silhouette and color in an exciting and modern way, and his outrageously expensive denim sold out at an alarming rate. But perhaps his promise is best illustrated by the overwhelming presence of his designs on reputable showgoers this past season, underscoring the fact that his designs are interesting, coveted and most importantly, wearable. After all, isn't that what should drive a successful fashion brand? We look forward to seeing how he shakes things up at Balenciaga.
@vetements
His line, Vetements, has played a large role in the recent deluge of bomber jackets in street style imagery...
Vetements Website
...and the tunic-over-cropped-pants-over-boots look...
@yasminsewell
...and the floral-print sweater-neckline dresses.