3 Maj Spring 2014 Trends We Spotted In Paris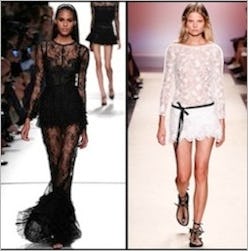 Paris Fashion Week has come to a close (phew!). Here's what I'm dying to wear next season: art-inspired prints for warm-weather afternoons and fun getaways, sexy lace and sheer pieces for nighttime dinners and soirees and great tailored jackets for work and any occasion that requires a little bit of polish. Check out my inspiration boards, below! —Natacha Steven
Art-Inspired Patterns Clothing was a canvas for creativity this season; we're really digging all the vibrant colors and artful prints from the Paris shows.
From left: Chanel, Celine, Christian Dior, spring 2014
Lace Embrace Lace of all variations and colors appeared on the Paris runways. I love this trend — nothing says femininity like a little bit of lace.
From left: Nina Ricci, Elie Saab, Isabel Marant, spring 2014.
Sleek Suiting Sometimes all you need is one perfect, tailored piece to throw on top of anything and everything.
From left: Haider Ackermann, Vionnet, Christian Dior, spring 2014.