Why Iceland Could Be The New Fashion Frontier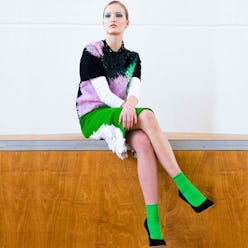 While Denmark and Sweden are well-known design hubs, you may be hard-pressed to name even one player on the Icelandic fashion scene. The small island just south of the Arctic Circle with a population of 320,000 simply hasn't made the same splash as its Nordic neighbors. But, as witnessed on a recent visit to the surprisingly lush country (despite its name), that's definitely changing. Below, check out the seven Icelandic designers making some seriously fashionable moves.
Homepage photo: Anita Hirlekar
Anita Hirlekar
Recognized by Vogue Italia as one of 200 international emerging designers, Anita explores beauty in imperfections, creating color- and texture-rich garments in clean, feminine silhouettes. Every piece in her latest collection is handmade and features chunky embroidery in shredded fabrics like silk and chiffon.
Myrka
Traveling around the country, you can see how the chilly climate and dramatic landscapes (think moss-covered fields, plunging glacial-melt waterfalls, geysers and volcanoes) influence local design. Super-feminine line Myrka distills Icelandic heritage, landscapes and Nordic mythology into each collection. This season, lead designer Harpa Einarsdottir was inspired by the powerful female shaman and seductress Völva to use obsidian silk cashmere as a nod to Iceland's inky black beaches, embellishments that pay homage to the local lava fields and silver leather detailing that represents local glaciers. (Also, sustainability is key: Myrka only uses sheepskin from free-range animals bred for the food industry, and vegan furs made of natural fibers from non-polluting factories.)
Magnea
For her brand's fall-winter collection, designer Magnea Einarsdóttir—who established her own studio in 2012 after graduating from Central St. Martin's in London—featured fuchsia and moss-green silk satin styles with knitted wool details sourced from an Icelandic mill, teamed with woolen coats.
Cintamani
Cintamani makes stylish technical outerwear influenced by Iceland's active, environmentally conscious lifestyle and the aesthetics and demands of the natural landscape. The brand's fall collection was inspired by deep glacial interiors and the colors of geothermal rock formations.
Orrifinn Design
Orrifinn Design is the epitome of understated cool. Swing by the brand's Reykjavik store and you'll find jewelry designers Orri Finnbogason and Helga Gvuðrún Friðriksdóttir working on their signature scissor pendants, braided metal rings and necklaces at their workshop behind the till.
Inklaw Clothing
Inklaw Clothing, established in 2003, counts Justin Bieber, Coco Rocha and a smattering of European football players among its fans. It's known for made-to-order, minimalistic, functional and hip-hop-culture-influenced designs.
Another Creation
Another Creation designer Ýr Þrastardóttir raises awareness of waste by focusing on small-production, sustainable, fair-trade multi-functional clothes in high-end fabrics—swapping disposable seasonal collections for timeless pieces with rolling design updates implemented throughout the year. Key materials in the line include rugged Icelandic sheepskin juxtaposed with soft, vulnerable shapes and textures inspired by the three months Ýr spent immersed in Shanghai's silk industry.