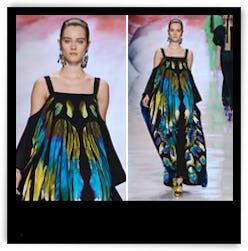 We simply can't imagine a summer wardrobe without the inclusion of a caftan (or ten caftans)! So, as you compile items for your own warm-weather adventures, we advise you look to Etro's Butterfly Painted Cady Gown as a muse to see your closet through traveling eyes.
Ready to be packed into your suitcase at a moment's notice, this flowy find blends a relaxed silhouette with impactful color for an effortless effect. A personal runway favorite of Rachel's, it is sure to stand out even amongst a sea of floor-length tunics. Jet-setting to an exotic destination in the coming months? Count on a like-minded breezy dress to serve as the foundation for your beach-chic uniform.
Availability: ETRO Butterfly Painted Cady Gown ($2995, available at ETRO, New York, 212.317.9096 and select Neiman Marcus and Saks Fifth Avenue stores). For additional information, visit Etro.com.