Chanel's Spring '17 Show Had Robot Heads And Side Ponytails, And It Was Very Hip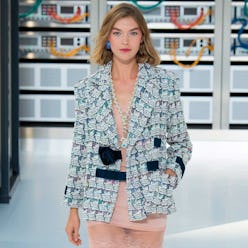 It was a clever mix of past and future at Chanel's Spring 2017 show, where Karl Lagerfeld transformed the Grand Palais into a data storage center adorned with Ethernet cables and blinking lights. Aisles of giant computer servers set a retro-futuristic tone as two models dressed in optic white robot suits introduced his latest concept. Dubbed the Robo Cocos, they wore helmets that appeared a cross between Daft Punk and Stormtrooper, inciting a digital feel that would take us to the future.
However the duo were soon followed by a parade of models led by Arizona Muse, whose tweed skirt suit was one in a series that recalled the styles of the '80s and early '90s (think Full House or the Fresh Prince of Bel-Air). Nearly every girl donned a tilted baseball cap with a side ponytail and heavy rose pink cheeks, courtesy of hairstylist Sam McKnight and makeup artist Tom Pecheux. The runway's bright colors, loud prints and chain necklaces definitely got the point across: Our favorite throwback looks are making a comeback.
Chanel Spring 2017