Bow Down To Viktor & Rolf's First Bridal Collection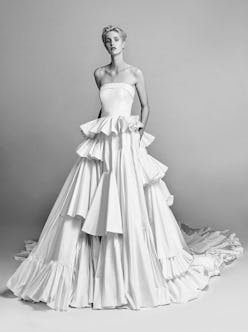 When Viktor Horsting and Rolf Snoeren, the avant-garde duo behind haute couture label Viktor&Rolf, announced that were launching a full bridal collection, the industry held their breath in fear of jinxing what many assumed would be a collection as edgy as the creations seen at the brand's couture runway shows, which are often likened to fine art rather than fashion. This weekend, in the midst of Bridal Fashion Week, editors and brides collectively released that breath because Viktor&Rolf Mariage (French for marriage; a nod to the brand's Parisian roots) is exactly what we hoped it would be and more.
Made in partnership with bridal veteran Justin Alexander, Viktor&Rolf Mariage is a much-needed sartorial anomaly in a sea of featureless strapless ball gowns. Characterized by sculptural elements, dramatic volumes, and intentional asymmetry, the 2017 Fall/Winter collection's 29 looks are all ingrained with Viktor&Rolf's high-fashion DNA.
"We have always been fascinated by wedding dresses. A wedding dress is like a story, a small universe in its own right. It is an icon of one of life's most precious moments," the duo said in the press release. "Each dress in this collection has an individual, autonomous character. Our love for wedding dresses is evident considering the many times we have designed them throughout the years."
While the label has been known to design custom wedding dresses and even had a wedding dress collaboration with H&M in 2006, this collection marks the first ever full bridal line for the designers. The one-of-a-kind offerings include elegant and graphic column dresses juxtaposed against intricate mermaid dresses and larger-than-life tulle ball gowns. The standout comes in the form of the Flower Bomb gown, a dramatic strapless dress with a voluminous tulle skirt completely covered in oversized 3-D flowers, a sartorial embodiment of the brand's iconic fragrance. Two short dresses (a '60s-inspired sheath and a remarkably tiered, embroidered "patchwork" mini) round out the looks, while the sharply tailored jumpsuits and a shirt dress add the cheekiness the couturiers are known for.
As should be expected, the collection is not without "surreal Viktor&Rolf twists" in the form of bow details running down the spine, Peter Pan collars, flower-shaped clasps and buttons, gold-plated zippers, and one show-stopping cone-shaped blusher. With fabrics ranging from sculptural Japanese crepe, structured tulle, and heavy duchesse, the designs put the emphasis on the architecture of the silhouette (a rarity in the wedding world where embellishments and lace reign) and layering without taking away from graphic detailing and lines.
Bold and experimental, Viktor&Rolf Mariage is made for the bride who values personal style over tradition, couture over ready-to-wear, and unforgettable over, well, basic. See photos and GIFs of the full fashion-forward collection in the gallery below.
Check out the original article on Nylon.