This Controversial Trend Has Officially Taken Over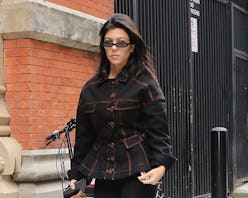 Does your summer wardrobe need a fresh pick-me-up? Here it is for you: Bike shorts, aka the season's newest staple. A somewhat controversial option, this trend has sparked mixed feelings. But, love or hate, there's no denying the look makes a statement.
The runways have confirmed that cropped pants are the next wave of leggings. Like the path of their longer counterpart, the bottoms that were once considered a gym-only staple are now a legitimate alternative for pants. And while Kim Kardashian West (with all her avant-garde glory) has been a longtime supporter of these cycling-to-street shorts, models and It girls like Bella Hadid and Kendall Jenner have also jumped on the bandwagon, demonstrating unique and successful ways to dress up the stretchy shorts.
That all said, if we really think about it, we can all thank Princess Diana, the original adopter of bicycle shorts, for making our hearts warm toward the trend now. Her go-to casual daywear in the '80s and '90s seems to be hitting a strong sartorial note 20 years later, so we're not surprised that designers are gravitating toward the iconic component in her signature outfit. Saint Laurent, Nina Ricci, Paco Rabanne and Off-White all jumped on the bicycle shorts train in recent collections. And, Virgil Abloh even created an entire offering inspired by Princess Diana, with the bottoms as a notable hero piece.
We get it, you might be having questions—or doubts. Feeling overexposed? How is this comfortable? But trust us, they are one of the most effortless pieces of clothing you can wear right now. If you've been stewing for a while on how you would make bike shorts work, let us offer some suggestions for you. To avoid looking like you're ready for Jazzercise, you can team your cycling shorts with a touch of glamour to balance out the gym element. Freelance stylist and brand consultant, Marissa Smith, suggests reaching for oversized separates to give a peek-a-boo effect: "I would style them with a relaxed T-shirt (vintage or not) where you can see part of the bike shorts, but not everything. Add a great sneaker, and you're good to go." Naomi Campbell debuted her form-fitting bottoms with a blazer and heels recently. In terms of length, to avoid feeling too exposed and make them a bit more wearable, we suggest grabbing a pair with some length. Dress them down with chunky sneakers for casual daywear, then swap in some heels for an easy evening transition.
Warming up to the trend yet? Wondering where you can get a solid pair? This trend is actually accessible at a number of retailers for a variety of budgets. Amazon has a range of lengths and styles, as low as $7. If you want to have that chic Yeezy vibe, Forever 21 and ASOS offer some classic muted tones that are incredibly versatile. You can also go literal and opt for an activewear brand like Outdoor Voices, which offers two different but very popular versions of the bike shorts (in breathable materials that will keep you cool during the dog days of summer).
Okay, so whether you love or hate this trend, you can't deny its nostalgic and versatile appeal. Bike shorts are here in full force, and we can all agree it's a phenomenon taking over (despite our initial apprehension). Check out some style inspo below and shop our picks to make the look your own!
Kourtney Kardashian
Kendall Jenner
Doina Ciobanu
Lottie Moss