Team Zoe's Favorite Fall Candles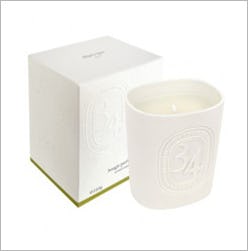 In addition to helping you plot your cold-weather wardrobe, we plan to provide you with plenty of nesting tips in the coming months (leading up to the release of Rachel's book, Living In Style!). Here, we have an insider's guide to our favorite fall candles, from pumpkin to sandalwood-scented and more. Strike a match!
P.S. Don't forget to show us how you style your space on Instagram and Twitter using #LivingInStyle.
Diptyque Feu de Bois, $60
"It smells like a really expensive camp fire. The glass the candle is in is so pretty, I like to empty it out when it is all done and use them as containers and they make excellent vases as well!" - Christian David, Graphic Designer
Le Labo Santal 26, $60
"My friend Cassandra Grey introduced me to Le Labo Santal 26 and it has been my favorite candle since. I have one in almost every room in my house! It's so glamorous and subtle." - Mandana Dayani, Vice President
Voluspa Makassar Ebony and Peach, $25
"Obsessed with this scent! It will leave your entire room smelling amazing all day. Plus, the packaging is super chic and can go with any decor." - Alyssa Sutter , Styling Assistant
Diptyque Oranger, $60
"It's light because it has a citrus base but still spicy with notes of clove." - Julie Jakoubek, Digital Sales Director
Anthropologie Boulangerie Jar Vanilla & Fig, $16
"I'm obsessed with the Boulangerie Jars from Anthropologie. They are affordable so I always stock up in fall, and they are great holiday party gifts! The vanilla and fig makes the house smell like I've been baking all day!" - Nicole Cottral, Account Manager
Bath & Body Works Sweet Cinnamon Pumpkin, $13
"Fall means pumpkin everything. Pumpkin bread, pumpkin muffins, pumpkin lattes and pumpkin pie...as soon as you switch the calendar to September, pumpkin explodes and it's literally everywhere. This candle scents my house in the replacement of food. If I could bathe in it I would." - Tyler Piluzza, Content Manager
Jonathan Adler Muse Noir Candle, $68
"I'm really not a candle person but I love the smell of this one from Jonathan Adler. It was a gift from one of my college friends and it not only looks super cool, but it smells elegant...if that's possible." - Jordan Silver, Marketing Manager
Joya Studio Gunpowder Green Tea, $48
"Joya candles come in gorgeous black or white porcelain vessels that look elegant when the candle is lit and can be reused as a desk accessory after the wax burns out (i fill mine with gold paperclips)." - Shannon Nash, Assistant to Rachel Zoe
Voluspa Pomegranate Patchouli, $27
"I just moved into a new place and literally have one of these Voluspa candles in every room. They're strong but not overwhelming and blend in well with our existing decor." - Jennifer Ash, Editorial Assistant
Cire Trudon Odalisque, $85
"Cire Trudon candles will win you over with their seductive scents and story. They were initially produced for the French Royal Court in 1642 - how cool is that?" - Jessica Amento, Editorial Manager
Rigaud Cypress Green, $40
"The most amazing candle ever, and since it is made of perfume, it lasts forever and burns really well." - Ron Troxell, West Coast Sales Director
Diptyque 34 Boulevard Saint Germain, $80
"I have both the candle and the personal fragrance, which I use as a room spray as well. A really great woodsy, floral, musky, unisex scent. I always get tons of compliments from guests!" - Andrea Sexton, Digital Sales Director
Illume Woodfire, $34
"I don't like sweet smelling candles so I keep this cedarwood scented candle in my home year round. The woodsy scent makes my whole house feel inviting and cozy. It instantly makes me think of fall." - Marisa Runyon, Director of Brand Partnerships
DL & Company Assorted Gift Set, $80
"These traditional DL & Company candles are my fave - every scent draws you in to the room, and the burn time is incredible. They come in so many colors, fit within any decor and always brighten up a room. I have given so many as gifts, and they are always loved!" - Pamela Glassman, Director of Business Development